Hashtag Challenges and Human Psychological Responses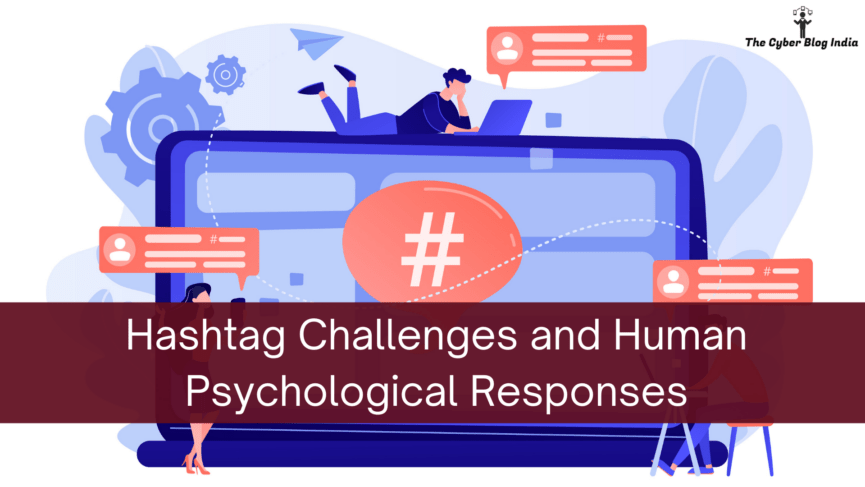 Since the time Coronavirus has entered everybody's lives, people have become comfortable staying at home. There might be something interesting that keeps them entertained at all times, even at their homes. Ever wondered what it would be? Let me make it a bit easier for you. You might have seen people getting outside a moving car and dancing, popularly known as the #KikiChallenge, doing the #thisorthatchallenge, etc. These hashtag challenges keep trending on social media platforms from time to time. But are these challenges serving their purpose of entertaining people or having adverse consequences?
Some examples of dangerous challenges
1.
#BlueWhaleChallenge
I am sure you have heard about the dangerous Blue Whale Challenge, which made people perform certain tasks and ultimately commit suicide. Since this challenge went viral, many suicides, self-harms, and suicide attempts came into the picture.
2.
#ThisorThatChallenge
While writing about hashtag challenges, it is imperative to state that not all challenges bring adverse consequences. Hashtag Challenges or trends like #thisorthatchallenge lets people make short videos (or 'reels' on Instagram and Facebook) in which they move towards their preferred choices. This challenge is not as dangerous as others, but people end up posting their personal preferences publicly.
3.
#BenadrylChallenge
Another hashtag challenge that turned out to be deadly was #BenadrylChallenge. Someone posted this challenge on TikTok, after which it got viral on all social media platforms. Teenagers and kids took excessive doses of the anti-allergic medicine leading to hallucinations. Consequently, this challenge turned out fatal, even leading to deaths. A 15-year-old girl from Oklahoma, USA, died after taking high doses of this anti-allergic medicine after watching TikTok users dare each other to perform the challenge.
4.
#CinnamonChallenge
This challenge became popular in 2013. People had to consume a spoonful of powdered cinnamon in 60 seconds without drinking anything and upload the video as evidence of participating in the challenge. Excessive cinnamon consumption can lead to throat irritation, collapsed lungs, breathing difficulties, and pneumonia, making the challenge harmful.
5. Other challenges
Besides the challenges mentioned above, there are other challenges as well that are way more dangerous. Some of them are #FireChallenge, #SaltandIceChallenge, #TidePodChallenge, #thechokinggame, etc. However, some challenges are part of a noble campaign and serve the purpose of helping people. Such viral campaigns or trends are known as viral altruism. One such challenge which can fall within the ambit of viral altruism is the #IceBucketChallenge. This challenge reached its peak in 2014 when people poured ice-cold water over their heads.
They uploaded the video of the act on different social media platforms, further nominating others for performing the same. Users performed this challenge to gather donations for a motor neurone disease called ALS (Amyotrophic Lateral  Sclerosis). Dr Sander Van Der Linden, a Social Psychologist, has set a recipe for such online altruism by using the SMART acronym. SMART stands for social influences, moral imperatives, affective reactions, and translational impact. According to Dr Linden, empathy is an emotional contagion and responding to people's feelings with a charitable act reflects a warm glow of optimism in people.
How do humans respond to such challenges?
 FOMO (fear of missing out) might be a reason why humans respond to these challenges in weird ways. The Collins dictionary defines FOMO as "the belief of some people that others are having a good time without them". It is a kind of social anxiety that pressurises people to stay connected with what their peers are doing. The 'likes' and 'comments' on social media platforms trigger dopamine and serotonin, often called mood stabilisers or happy hormones. Eventually, this increases the urge to participate in such challenges. Psychologists mention that the same emotions that motivate people to be a part of a charitable viral challenges can attract them to participate in extremely dangerous viral challenges.
Teenagers are more susceptible to participating in these challenges as their decision-making capacity is still in the developing stage. A study states that 39% of teenagers post content on social media because of peer pressure to gain more likes and comments and become popular. They urge to get validation from their peers and get accepted by the cool and popular group.
For instance, according to Jennifer Hettema, a clinical psychologist,
Social media can project a feeling of community and connection, and viral challenges can gain momentum very quickly as a result.
Completing the trending challenges may feel like a badge of honour for a person whose family or friends do not appreciate them or value them in their personal life. In other words, participating in such challenges becomes a way to make a place for themselves in the social circles.
Endnotes
The trend of participating in challenges began after 2012. Among the most popular challenges, the #IceBucketChallenge gained a lot of popularity. This challenge helped raise awareness for ALS. Hence, it was for a noble cause. After this, many challenges have kept coming with no positive consequences whatsoever, and the trend continues.  Challenges these days rather bring disastrous consequences. Therefore, here are a few precautions that are necessary to avoid falling into trouble:
Know the difference between dangerous and entertaining challenges.
Talk to your kids about trends and challenges frequently. Parents should know the platforms their kids are using and the content they are watching.
If someone is showing signs that are concerning, do not hesitate to seek help from a professional.
---
Featured Image Credits: Abstract vector created by vectorjuice – www.freepik.com