Hareesh v. State of Kerala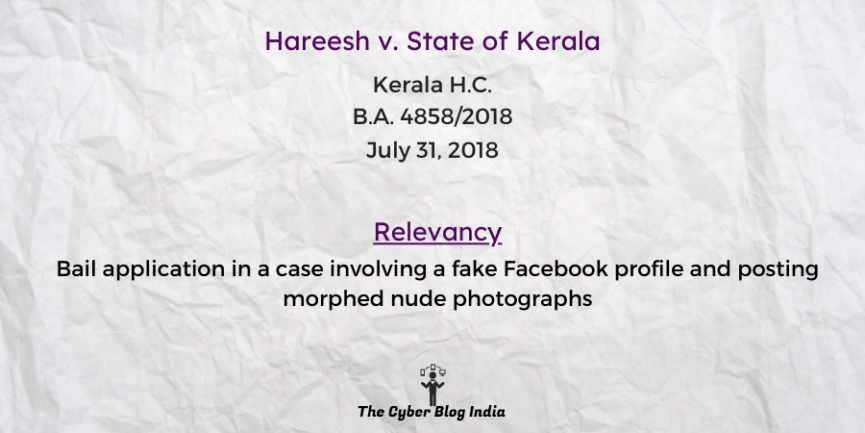 Hareesh v. State of Kerala
In the High Court of Kerala
B.A. 4858/2018
Before Justice Raja Vijayaraghavan
Decided on July 31, 2018
Relevancy of the case: Bail application in a case involving a fake Facebook profile and posting morphed nude photographs
Statutes and Provisions Involved
The Information Technology Act, 2000 (Section 67, 67E)
The Code of Criminal Procedure, 1973 (Section 438)
The Indian Penal Code, 1860 (Section 354D)
Relevant Facts of the Case
The applicant allegedly created the complainant's fake Facebook profile and posted her nude photographs.
He allegedly morphed the complainant's face on the nude photograph of another lady, and also posted the phone number of the complainant.
Prominent Arguments by the Advocates
The respondent's counsel submitted that the details from the internet service provider and his friends' statements link the applicant with the crime and that the investigation is in its early stages.
Opinion of the Bench
The investigation is in its early stages, and prima facie, there is material to show the applicant's involvement.
It would be improper to interfere with the investigation at this stage.
Final Decision
---
This case summary has been prepared by Mehula Liza Pallathu, an undergraduate student at the National University of Advanced Legal Studies, Kochi, during her internship with The Cyber Blog India in May/June 2021.