Gopakumar v. State of Kerala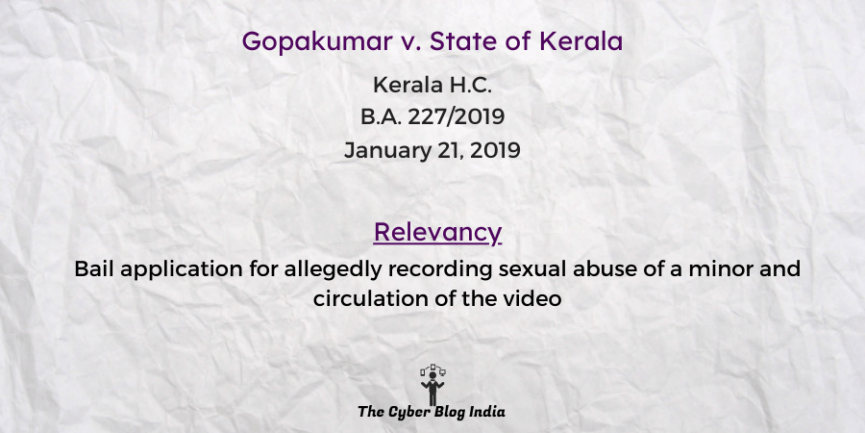 Gopakumar v. State of Kerala
In the High Court of Kerala
B.A. 227/2019
Before Justice Raja Vijayaraghavan V
Decided on January 21, 2019
Relevancy of the case: Bail application for allegedly recording sexual abuse of a minor and circulation of the video
Statutes and Provisions Involved 
The Information Technology Act, 2000 (Section 67)

The Indian Penal Code, 1860 (Section 34, 354, 363, 376(2), 506(1))

The Protection of Children from Sexual Offences Act, 2012 (Section 5, 8)

The Code of Criminal Procedure, 1973 (Section 439)
Relevant Facts of the Case
The first accused had a physical relationship with a minor girl. He allegedly recorded explicit videos of her and showed them to his friends (the rest of the accused).

The applicant and others allegedly used the video to threaten her and demand sexual favours. Further, the second accused allegedly molested her.

The applicant is the fourth accused, and he has applied for bail.
Prominent Arguments by the Advocates 
The petitioner's counsel argued that the main allegation is against the first and the second accused. Further, there is no case against the applicant, and he has been in custody since 13.12.2018.

The respondent's counsel submitted that the applicant is a close friend of the 1st accused and threatened the victim.
Opinion of the Bench
The applicant's age is 19 years, the prosecution has no case against him. While he has been in custody, the investigation has made much headway. Hence, the court can grant bail.
Final Decision
Application allowed.

Bail granted with certain conditions.