Global Removal of Defamatory Content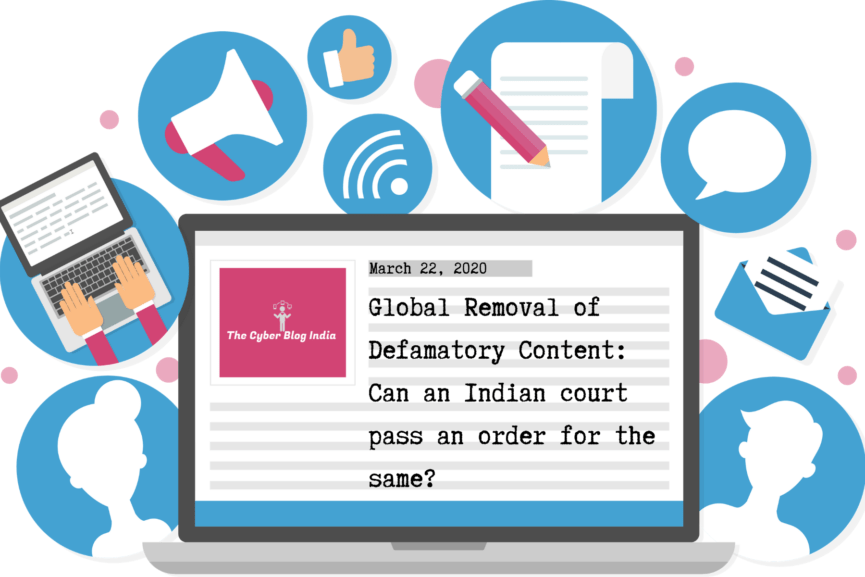 Social media platforms have taken centre-stage in our daily lives. Memes are being shared rapidly on various social media handles and it is pertinent to note that such images may defame public figures, politicians, friends, families, etc. Given that Section 66A of the Information Technology Act, 2000 had been struck down, it is reasonable to wonder the legal dynamics involved in the removal of defamatory content from social media platforms/blog platforms on a global level. This article explores the possibility of global removal of content in the context of a Delhi HC case on the same issue. (Swami Ramdev v. Facebook & Ors, CS (OS) 27/2019).
Where does the Indian Law stand?
Section 499 of the Indian Penal Code, 1860 defines defamation as words spoken or intended to be read to cause harm to a person and believes or has a reason to believe that it will cause harm to the reputation of such person. Punishment for such an act described in this section is given in Section 500. The prescribed punishment is imprisonment up to two years, or fine, or both. For defamatory social media posts and blog articles, there is a degree that must be crossed to make the content so published or said to be put within the ambit of being defamatory or so as to put, it must cross the test of ordinary prudence which is indeed subjective. Defamation, in cases related to public authorities, is often countered by the fundamental right to freedom of speech and expression under Article 19 of the Indian Constitution.
Section 499 and 500 deal with defamation in general. Before the honourable Supreme Court delivered its judgement in the landmark case of Shreya Singhal v. Union of India, we had Section 66A in the Information Technology Act, 2000. Section 66A read as
66A. Punishment for sending offensive messages through communication service, etc. -Any person who sends, by means of a computer resource or a communication device,-
(a) any information that is grossly offensive or has menacing character; or
(b) any information which he knows to be false, but for the purpose of causing annoyance, inconvenience, danger, obstruction, insult, injury, criminal intimidation, enmity, hatred or ill will, persistently by making use of such computer resource or a communication device; or
(c) any electronic mail or electronic mail message for the purpose of causing annoyance or inconvenience or to deceive or to mislead the addressee or recipient about the origin of such messages,
shall be punishable with imprisonment for a term which may extend to three years and with fine.
Explanation. -For the purpose of this section, terms "electronic mail" and "electronic mail message" means a message or information created or transmitted or received on a computer, computer system, computer resource or communication device including attachments in text, image, audio, video and any other electronic record, which may be transmitted with the message. 
Here, it is clear that Section 509 IPC is a general law for defamation while Section 66A was a special law for defamation on online platforms. After Section 66A was repealed, there were many news reports where the police were lodging FIRs under Section 67 of the Information Technology Act, 2000 for defamatory content on online platforms. It is pertinent to note here that Section 67 talks about transmission and publication of obscene content on the Internet.
Global Regulation and Content Removal
Before going into the actual discussion, let's take an example. Consider that there is a globally known Indian celebrity. Let's call her X. A user posts defamatory content about X on a particular social media platform. X files a case before the appropriate court for removal of the said content. Now, the question here arises is: whether the court, that derives its power from the Indian Constitution and adjudicates on matters concerning Indian laws, can pass an order for global removal of defamatory content? Here, on the onset, we do not have any international agreement or treaty or regulation that deals with this subject matter. However, it is interesting to see how certain courts across the globe have dealt with this legal dilemma.
Starting with the case of Eva Glawisching-Piesczek v. Facebook Ireland (2019) wherein the Third Chamber of the Court of Justice of the European Union ordered global removal of content on the ground that the E-Commerce Directive does not preclude a member state from ordering a hosting provider to remove or block content that has been declared unlawful or content that is identical or equivalent to such unlawful information. In this case, a Facebook user published defamatory content on Facebook about Eva Glawisching-Piesczek, an Austrian politician.
Prior to this case, the Supreme Court of Canada in 2017 ordered global removal of defamatory content from Google in the case of Google Inc. v. Equusstek Solutions Inc. The court, in paras 44-45 of its decision, stated that "And while it is always important to pay respectful attention to freedom of expression concerns, particularly when dealing with the core values of another country, I do not see freedom of expression issues being engaged in any way that tips the balance of convenience towards Google in this case."
Similarly, in the case of X. v. Twitter Inc. (2017), Justice Pembroke of the Supreme Court of New South Wales granted an order requiring Twitter to remove content posted by one of its users. According to the facts of this case, the said user disclosed highly sensitive and confidential financial information about the plaintiff. This case has received significant commentary in the Australian legal circles.
Global Removal of Content and the Indian Courts
In the case of Swami Ramdev v. Facebook & Ors, Swami Ramdev approached the Delhi High Court to remove defamatory content against him from various websites including Google, Google Plus, Twitter, Facebook, YouTube, etc. It is claimed that the defamatory sentences were made in relation to remarks, videos, and other types of content related to a book titled: Godman to Tycoon – The Untold Story of Baba Ramdev.
On January 24, 2019, the High Court passed an interim order to remove or block the defamatory content to be accessible from India; however, it deferred from addressing the question on global removal of defamatory content. The defendants complied with the order for preventing access from India; however, they argued against the global removal of defamatory content. They argued that the court does not have jurisdiction to order the global takedown of content. They further stated that defamation laws vary from country to country, and just because Indian laws regulate the takedown of the content does not mean that there shall be a global takedown.
After hearing all the parties, the court was of the opinion if the platforms were able to selectively prevent access for Indian users, it must be relatively easy for them to do the same on a global level. Further, the court took the stand that merely geo-blocking of content in India does not restrict the Indian users from accessing the said content through VPN. Accordingly, it does not fulfil the purpose of the removal of defamatory content. In the judgement, the court has explained that this matter falls under their jurisdiction as they are passing orders with respect to users residing in India. The court relied on Section 79 of the Information Technology Act, 2000 and stated that as far as the content has been published from India, the Indian courts are the competent courts for passing an order for a global takedown. In its judgement, the court has stated that
"It is not unknown that the Canadian, European and American websites of Google, Facebook, YouTube and Twitter can be accessed in India through various technological means. This would thus result in partial disabling and partial removal."
Concluding Notes
After going through many cases related to the global takedown of defamatory content, I think it would be safe to conclude that the jurisprudence on this subject matter is in its early phases. So far, the global takedown has only been ordered on the basis of facts and the satisfaction of the legal requirements for a piece of content to be called as defamatory as per the local (or municipal) laws. On the other hand, it can be stated with surety that irrespective of defamation laws and freedom of speech in different countries, the competent court, in its discretion, have ordered the global takedown of defamatory content.