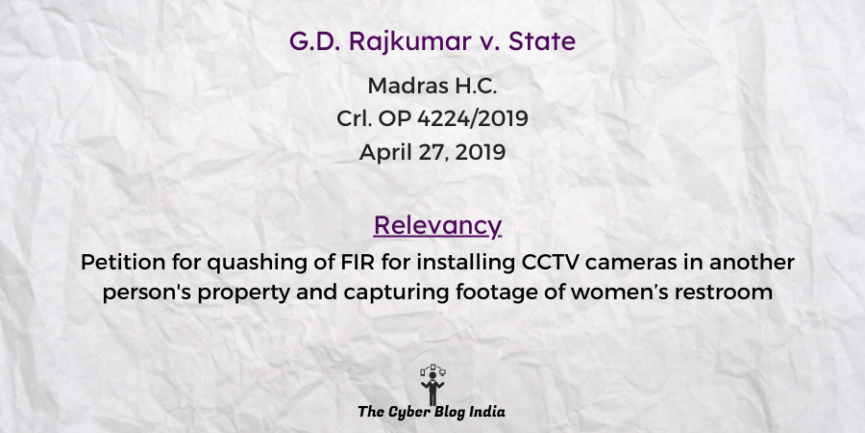 G.D. Rajkumar v. State
In the High Court of Madras
Crl. OP 4224/2019
Before Justice GK Ilanthiraiyan
Decided on April 27, 2019
Relevancy of the case: Petition for quashing of FIR for installing CCTV cameras in another person's property and capturing footage of women's restroom.
Statutes and Provisions Involved
The Information Technology Act, 2000 (Section 66E)
The Indian Penal Code, 1860 (Section 354C)
The Code of Criminal Procedure, 1973 (Section 482)
Tamil Nadu Prohibition of Harassment of Women Act, 2002 (Section 4)
Relevant Facts of the Case
The petitioner allegedly installed CCTV cameras in the property of the second respondent and took footage of the women's restroom.
The police removed the CCTV cameras and seized the Digital Video Recorder later. The complainant lodged an FIR against the petitioner.
Prominent Arguments by the Advocates
The petitioner's counsel argued that the wall belongs to the petitioner and the installation of cameras was a security measure. Further, the allegations were an abuse of the process of law.
The respondent's counsel argued that the camera was focused on the women's restroom. Hence, the present allegations have been put forth. The videos are sent to a Forensic Science Laboratory for examination.
Opinion of the Bench
There is a specific allegation to invite the offences, which are very serious in nature. The investigation should proceed further after the report from the Forensic Science Laboratory comes.
Final Decision