Forwarding derogatory post on Facebook: S. Ve Shekar Case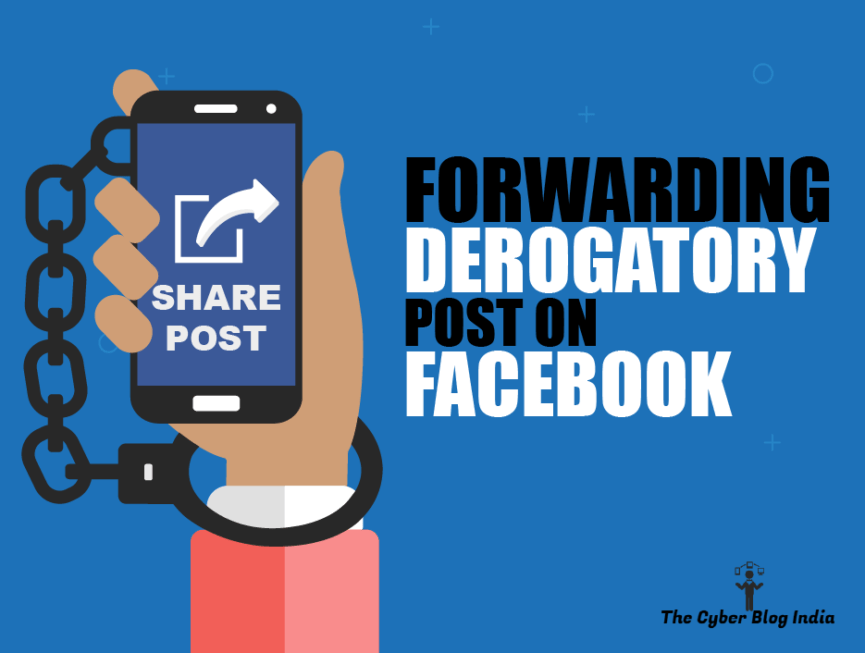 On an average, people spend more than 135 minutes (Statista Survey) on Social Media websites by liking, commenting, sharing, retweeting and double tapping posts from people and pages. With the reach of social media exceeding the other modes of communication, it is imperative to be responsible on social media about what you are liking and sharing. If you follow a celebrity or a political person and like and share every post or tweet they have been posting on their social media, you need to be careful of what you share or retweet.
A recent judgment on 10th May 2018 by Madras High Court in S. Ve Shekar highlighted how a forwarded message is equal to accepting the message and endorsing the message. That old habit of saying that you've just forward as you received might no longer be able to save you. Well, it might save you from the wrath of those near and dear ones but not from the adverse use of the law.
The brief facts of the case are as follows:
A well-known local BJP leader, Mr Shekar on 19th April 2018 shared a post on his Facebook timeline about women journalists. The shared post was – "Recently this disgusting fact has come out through complaints that women cannot become reporters or anchors unless they sleep with top bosses and with these faces they come out to ask questions to the Governors".
The leader was charged with Sections 504, 505(1) (c), 509 of IPC read with Section 4 of the Tamil Nadu Prohibition of Women Harassment Act, 1998.
Mr Shekhar approached the Madras High Court for Anticipatory Bail.
The important aspect, in this case, was that the petitioner Mr Shekhar used the defence that he had not read the message before sharing it and that the friend who sent him that message usually sends patriotic messages, and thus he was of bona fide intention that the message was patriotic and hence, shared it on his Facebook page.
The defendant also used the plea that he was not the originator of the post and hence he has not committed the offence alleged against him.
The Madras High Court rejected the plea and said that forwarded message is equal to accepting the message and endorsing the message. Strange? Let us know in the comments!
Status in other countries
Re-tweeting and sharing a post is equal to endorsing it because if such was not the case, people would keep using it as a way of abusing and not owning up to it. In United States v Yassin, No. 16-mj-2009-DPR (W. D. Mo.) the court did not address the question of whether re-tweets can be read as endorsements or establish any general rule in this regard but it is assumed that at least in some cases, re-tweet can be considered as an endorsement. Now you know why some influencers write RTs not endorsements on their profiles?
Stephen J. Barret, et al. v. Ilena Rosenthal and many other cases reaffirmed that the Communications Decency Act, 1996 (US) immunizes a user from a defamation claim arising out of her republication of statements authored by a third party. Section 230 of the Communications Decency Act, 1996 (US) asserts that "No provider or user of an interactive computer service shall be treated as the publisher or speaker of any information provided by another information content provider"
In the UK, The Crown Prosecution Service (CPS) formed a guideline named "Social Media: Guidelines on prosecuting cases involving communications sent via social media". These guidelines define crimes into categories. Communications which are considered grossly offensive, indecent, obscene or false fall under Category 4. Category 4 deals with Section 1 of the Malicious Communications Act, 1988 which prohibits the sending of an electronic communication which is indecent, grossly offensive, or which is false, or which the sender believes to be false if, the purpose or one of the purposes of the sender is to cause distress or anxiety to the recipient. Another important statute under this category of crimes is Section 127 of the Communications Act, 2003 which makes it an offence to send or cause to be sent through a public electronic communications network a message or other matter that is grossly offensive or of an indecent or obscene character. In Chambers v DPP [2012] EWHC 2157, the divisional court defined that tweeting anything on Twitter will come under "public electronic communications network" and if it is offensive or indecent will be a crime.
While in McAlpine v Bercow EWHC 1342 (QB), a retweet sent by Alan Davies, comedian and actor, also became the subject of defamation proceedings, which was later settled with an apology and damages.
In Chris Lance Cairns v Lalit Modi, [2012] EWHC 756 (QB) it was held that "With respect to the re-publication of defamatory content, Indian courts have accepted that any such re-publication will give rise to a new action for defamation. The re-publisher is required to defend the publication on the same grounds as available to the originator, i.e., by proving that the elements of defamation have not been made out. There is no defence of due diligence reporting or fair comment readily available." The underlying basis of this principle is that the re-tweet constitutes an act of independent speech relaying information afresh, possibly to a new and different audience than of the original tweet. The re-tweeter is considered a principal actor rather than as an intermediary enabling content to be relayed to others.
Canadian precedents have the same stand on the issue, in Pritchard v. Van Nas (2016 BCSC 686), the court believed that the author of the post is himself liable for any republication of the defamatory post by any third party.
The article Should the law beat a retweet? Rationalizing liability standards for sharing of digital content talks about attributing legal liability to re-tweeters. Re-tweeters have been attributed with the same liability as that of an intermediary. By the virtue of existing laws, traditional internet intermediaries (such as Facebook and Twitter) cannot be held responsible for all the content that is posted on their publicly viewable and searchable platform. They act as passive conduits, carrying and hosting user-generated content that they do not control. Users do not share the same immunity. Twitter, in fact, gives users a notice that they not only own but are responsible for the content they post.
Zurich District Court in a case charged a man for liking a defamatory comment on Facebook. The court held that by liking defamatory statements which included content contrary to the interests of the animal rights activist Erwin Kessler and his animal rights group, the accused had adopted those statements as his own and had disseminated them making it accessible to a multitude of people.
Conclusion
Freedom of speech guaranteed under article 19(a) of the Constitution of India has a few safeguards which include speaking against public order, decency or morality and defamation. We have entered the era of the internet where
"Actions DON'T speak louder than words".
We need to be very careful of what we write on the internet or even for that matter share on the internet. It is not just our own freedom of speech but empathy about others that also needs to come into the picture.
A general view of other nations seems to coincide with the Madras HC decision of amounting a forwarded derogatory post with liability similar to the originator. While this case is not just limited to the forwarded message but also to the person who forwarded the message.
A celebrity-like person is at an influential position with social responsibility and when such a person shares a particular message on the internet, common people tend to easily believe that the said culture is prevalent in the society.
---
Co-authored by Abhay Singh Sengar and Titiksha Seth