Divya v. Inspector of Police & Anr.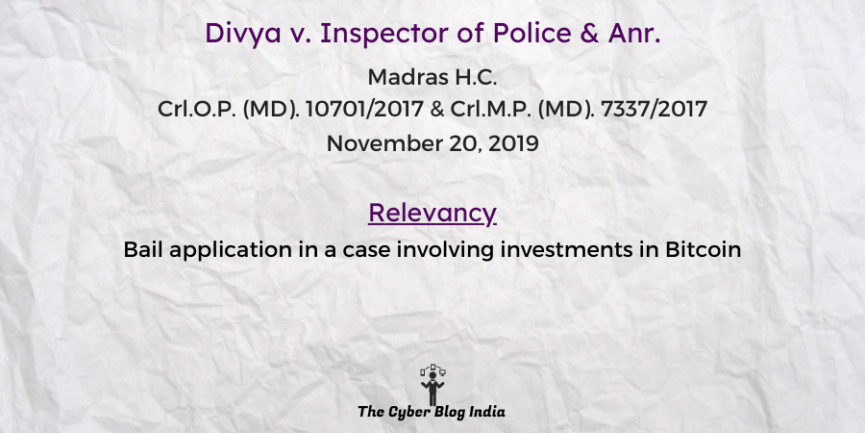 Divya v. Inspector of Police & Anr.
In the High Court of Madras
Crl.O.P. (MD). 10701/2017 & Crl.M.P. (MD). 7337/2017
Before Justice N Anand Venkatesh
Decided on November 20, 2019
Relevancy of the case: Quashing of FIR involving cyber terrorism and spreading of enmity about a documentary on manual scavenging.
Statutes and Provisions Involved
The Information Technology Act, 2000 (Section 66F)
The Indian Penal Code, 1860 (Section 505(1)(b), 153(a))
The Code of Criminal Procedure, 1973 (Section 482)
The Constitution of India, 1950 (Article 19(1)(a))
Relevant Facts of the Case
The petitioner is a social activist and created a documentary about manual scavenging called kakoos.
The FIR stated that she intends to spread enmity and disturb public tranquillity by displaying only a particular community (Thevendra Kula Vellalar).
Hence, she filed for quashing of the FIR.
Prominent Arguments by the Advocates
The petitioner's counsel argued that no offence is made out in the complaint. Further, this is to stifle freedom of expression and is an abuse of law.
The respondent's counsel argued that the documentary has defamed the community and that it will create caste conflicts.
Opinion of the Bench
The court observed the provision for cyber terrorism and stated that an act to threaten unity, integrity, security or sovereignty of India or to strike terror in people or any section of people constitutes cyber terrorism,
It was held that the allegations in the complaint neither make out a case for spreading enmity nor any case for cyber terrorism.
The FIR is a clear abuse of the law and amounts to a violation of the fundamental right to free speech and expression guaranteed under Article 19(1)(a) of the Constitution of India, 1950.
Final Decision
Petition allowed.
FIR quashed.
---
This case summary has been prepared by Neelangini Tiwari, an undergraduate student at Kirori Mal College, DU, during her internship with The Cyber Blog India in January/February 2021.