Deepti Kapur v. Kunal Julka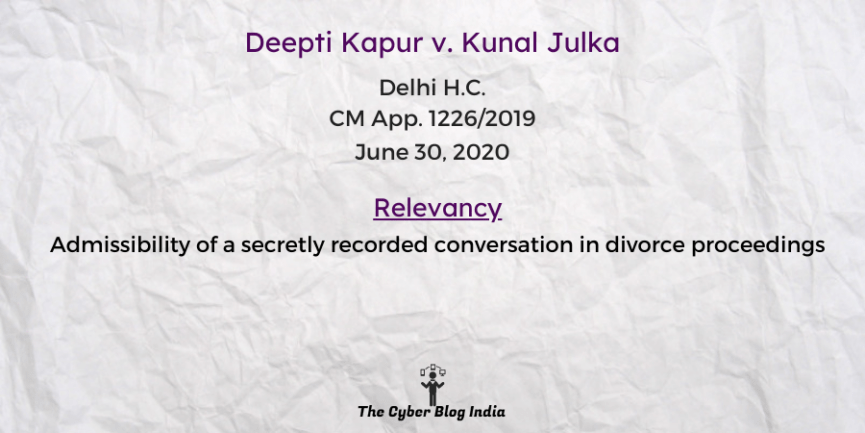 Deepti Kapur v. Kunal Julka
In the High Court of Delhi
CM App. 1226/2019
Before Justice Anup Jairam Bhambhani
Decided on June 30, 2020
Relevancy of the Case: Admissibility of a secretly recorded conversation in divorce proceedings
Statutes and Provisions Involved
The Indian Evidence Act, 1872 (Section 5, 65B)
The Constitution of India, 1950 (Article 21, 227)
The Family Courts Act, 1984 (Section 14)
Relevant Facts of the Case
The petitioner has approached the High Court under Article 227 of the Indian Constitution. It challenges an order passed by the Family Court, Saket in ongoing divorce proceedings going on between the parties.
The respondent-husband had filed the divorce petition. Further, he submitted a CD containing an audio-video recording of the petitioner-wife. She is speaking with her friend on phone about the respondent and his family in a derogatory manner.
Therefore, the present petition questions the admissibility of this CD as it was recorded in reach of the petitioner's fundamental right to privacy.
Prominent Arguments by the Advocates
The petitioner's counsel submitted that privacy is a fundamental right. It is not only available against the State, but also against private individuals. The husband's action of secretly recording the wife's conversation using a CCTV camera installed in the bedroom is a violation of her right to privacy. This recording per se is illegal and hence, not admissible as evidence under Section 14 of the Family Courts Act, 1984.
The counsel further contended that recording such conversation amounts to stalking under Section 354D of the Indian Penal Code, 1860.
The respondent's counsel argued that even though privacy is a fundamental right, it is subject to exceptions. The husband has to prove the ground for divorce by submitting the necessary evidence. Otherwise, it will be a violation of his right to a fair trial. Further, Section 14 of the Family Courts Act, 1984 empowers a family court to receive evidence if such evidence will assist the court in dealing with the dispute effectively. This admission will be regardless of whether the same is admissible under the Indian Evidence Act, 1872.
Opinion of the Bench
Planting an audio-video recorder without the knowledge and permission of the wife amounts to an invasion of her privacy.
However, a Family Court would not consider the question of admissibility on the ground of the violation of the right to privacy. The recorded conversation is admissible and a relevant fact under Section 5, 7, and 8 of the Indian Evidence Act, 1872.
The court expressed its displeasure on parties going to lengths to gather evidence in matrimonial disputes.
Final Decision
The court found no infirmity in the order in question. Hence, it disposed of the petition.