Can the police share pictures of missing children on social media?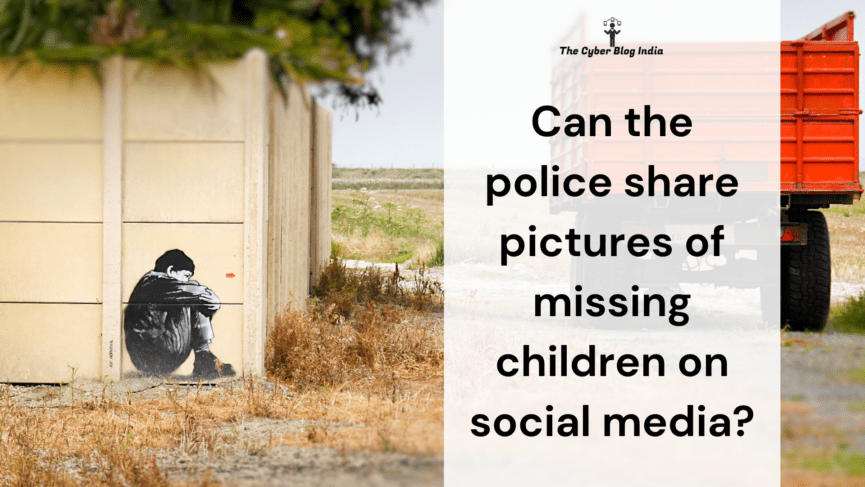 India is witnessing an increasing number of cases of missing children. The distressed parents and guardians believe that circulating images of their child will help locate him or her quickly. With that in mind, they take the help of the police and spread the word on social media platforms. There are so many instances where social media has helped in uniting lost children with their families. For example, a three-year-old child went missing in 2016 at a railway station. With the help of social media platforms, she was found in a matter of 20 minutes.
So, do we need to worry about sharing pictures of missing children?
Some perpetrators have their eyes on the information of minors, and they may misuse it for acts such as kidnapping and trafficking. A UK-based couple found a shocking post on Facebook with a picture of their children captioned "Abducted – please help us find them." This is an example of digital kidnapping wherein a perpetrator takes pictures of children from social media. They use these pictures with new names and identities and claim to be their parents. This incident shows that pictures of children can be misused even when they are casually posted.
Also, some individuals even post pictures of children who are not missing. An example of this is a 2013 incident in the UK. A father published a picture of his children on Facebook, stating that they are missing. As a result, one person recognised the children and informed him of their location. The mother and her children were living under protection with a different identity after leaving the father. The person who informed the father was completely unaware of this fact.
In some cases, perpetrators can misuse the pictures of children for baby role-playing. They post stolen pictures of children with fake details. The objective of perpetrators is to create baby role-playing accounts for impersonating a child or parent.
What does the law say?
Rule 92 of the Juvenile Justice (Care and Protection of Children) Model Rules, 2016 deals with the inquiry process in missing children cases. The police must prepare Hue and Cry notices containing the photographs and the description of a missing child. Rule 92(4)(vi) specifies that, the police should give wide publicity by publishing this information in leading newspapers, television/electronic media, local cable TV network, and social media platforms. After this, the police must submit for ratification by the Children's Court. So, it is clear that the police can publish pictures of missing children on social media platforms. In 2017, a three-year-old girl from Delhi went missing when she was playing with her friends. The police circulated her pictures via WhatsApp and Facebook. Eventually, they were able to locate the child in an ashram with the help of social media platforms.
Section 3 of the Juvenile Justice Act, 2015 lays down a series of principles for the care and protection of children. The 11th principle recognises that the children have a Right to Protection of their privacy and confidentiality by all possible means throughout the judicial process.
Endnote
While weighing the pros and cons of the publicity of an abducted child, it is paramount to save the child first than anything else. The objective of finding the child should outweigh any other factor, and we must keep the following restrictions in mind:
Individuals involved must keep the best interests of the child on the highest pedestal.
Always verify the details of a case while sharing it across multiple platforms. Put simply, enquire before you blindly re-share.
If the parents find their child, they should inform the public about the same so that information sharing can be prevented.
Misuse of information about missing children must be prevented. Individuals that exploit this information must be prosecuted.