Can minors use online dating applications?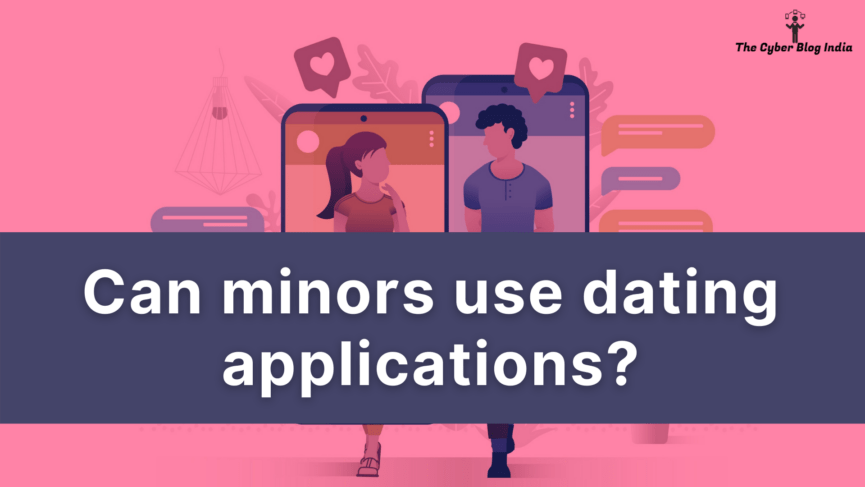 Online dating has become a common part of day-to-day lives. Some may use a dating app for finding a suitable partner; while others are simply looking for friends. However, should online dating platforms be available for everyone to use, including minors? This is the debate that the article seeks to engage with. Dating applications seem convenient on the surface but can turn out to be very dangerous. Minors may think that this form of association is harmless since no one is meeting in person, but sharing personal information with strangers can be harmful. We are aware of numerous instances where minors created fake accounts on dating applications, and the end result was indeed disastrous.
Ideally, minors cannot create accounts on dating applications, as most of these apps have a minimum age criterion of 18 years. However, minors often enter the wrong age to create their account on a dating application.
Common incidents that we have come across
1. Sharing of location
Various dating applications ask their users to share their location. This location is an indication of the proximity with the person you match with on a dating application. Using other publicly available information about a user, I do not believe it will be difficult for a perpetrator to determine the exact location.
Consider this example: Mr X has been living in the same colony that he was born. He matches with a user who is 25 years old. In reality, this user is Ms B, who is only 17 years old. The pictures and how a minor is involved in a conversation may easily give away the age, even though they are posing to be over 18+. Over time, if Ms B shares her picture or any personal information about her, Mr X can locate their home. Mr X may casually ask where she lives, and she can tell the name of the apartment. Every apartment complex has a board with the names of all the flat owners. Using this information, Mr X can go to Ms B's apartment without any invitation whatsoever.
2. Identify theft
Dating applications ask for various types of personal information, including your height, gender, political beliefs, ethnicity, salary, etc. Well, they need this information to find the best suitable match for you. If you have used dating application previously, you already know that this information will be accessible for any user who visits your profile. I can quickly take screenshots of your pictures and create a fake account. When the application asks me personal details, I will use your height, gender, political beliefs, and ethnicity information which was already there.
Using this fake account, I can talk to any person I wish to, and you would have no idea. This is precisely identity theft. While adults may be able to catch this misrepresentation, minors tend to be more gullible on this front. Moreover, they can also open up and share plenty of sensitive information about them and their family with fake accounts. At this point, I believe I do not need to say that this can have dangerous consequences.
3. Sextortion/Revenge pornography
Sexting is gradually becoming common practice for all age groups. Once you send a picture from your device, the receiver also has a copy of your photo/video. While you have total control over files on your phone, the same does not hold true for the receiver's phone. The receiver may make multiple copies of your photos, share them on WhatsApp groups, or upload on any site that they wish to. From what we have seen over the years, minors have a tendency to easily trust the person they meet online. When they try to get out of a relationship, the other party starts blackmailing them and asking for unwanted sexual favours. In some cases, the perpetrators even demand money for not uploading those pictures and videos. If you are going through something like this, do not be afraid to seek help. The law is on your side!
4. Financial frauds
The tendency to easily trust the other person often results in turning a blind eye to red signals. The other person can send phishing links and ask the minor to make a small payment. The perpetrator captures the payment details, which leads to substantial financial losses.
End notes
When you sign up on any online platform, you accept their terms and conditions. This acceptance means that you are entering into a contract with the said platform. As per Indian laws, an individual must be 18 years of age to enter into a contract. You can read more about minimum age requirements in India here. It is quite straight forward to conclude from the cases discussed above that minors should steer clear of online dating platforms. Situations can actually get much worse in real life. We have come across cases where online dating platforms led to rape, murder, molestation, and sexual assault of minors. On a precautionary note,
Minors should prioritise their safety over being cool.
---
With inputs from Raj Pagariya.
To contribute to our blog and knowledge base, write to us at contact@cyberblogindia.in and elaborate on how you can help us create a safer cyber space.
---
Featured Image Credits: People vector created by pikisuperstar – www.freepik.com