Bhaskar Madhav Taske v. State of Maharashtra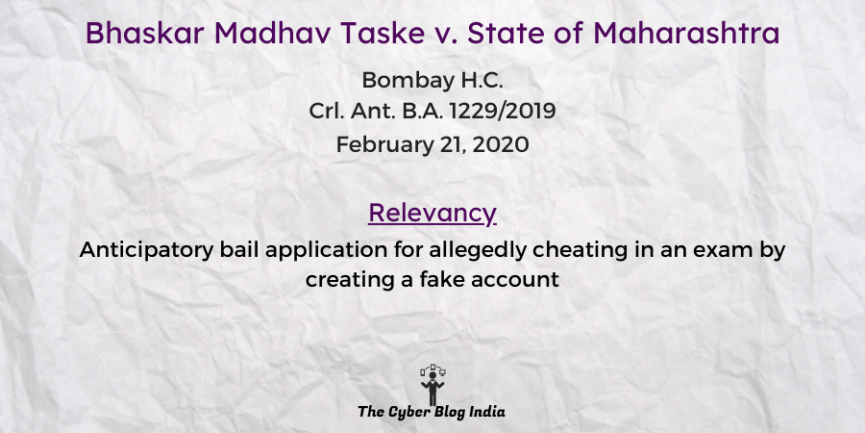 Bhaskar Madhav Taske v. State of Maharashtra
In the High Court of Bombay
Crl. Ant. B.A. 1229/2019
Before Justice Prakash D Naik
Decided on February 21, 2020
Relevancy of the case: Anticipatory bail application for allegedly cheating in an exam by creating a fake account
Statutes and Provisions Involved
The Information Technology Act, 2000 (Section 66, 66C, 66D)
The Indian Penal Code, 1860 (Section 34, 420, 467, 468, 471)
The Maharashtra Prevention of Malpractices at University, Board and other specified Examinations Act, 1982 (Section 7, 8)
Relevant Facts of the Case
Maharashtra Public Services Commission (MPSC) conducts recruitment for government services as required. For this purpose, they have a website where candidates can apply for examinations.
The candidates have to upload their pictures with a digital signature and other details.
Before the examinations, seat numbers are randomly allotted to the candidates.
During the examination for the position of Tax Assistant, it was found out that two students with the same surname, middle name, and first name were allotted seats together.
It was alleged that one of the candidates made a fake account with the same name as his friend to get a seat with him and help him pass the examination.
On the day of the examination, the matter was investigated, and it was found that the person with the fake name did not exist.
Prominent Arguments by the Advocates
The applicant's counsel submitted that the applicant was not involved in committing any malpractice. They further submitted that the applicant has no relation to the person who made the fake account. The applicant has a genuine picture and details. There is a possibility that someone wanted to cause harm to the applicant and hence made a fake account under his name.
The learned APP argues that both the applicant and the co-accused are liable as they submitted their applications within 2 minutes, hence getting adjacent seats. A writing expert also supports their case.
Opinion of the Bench
The court took into account that the photographs and the handwriting of both the people were similar. The interim relief for the applicant was extended by four weeks.
Final Decision
The anticipatory bail was rejected.