Are matrimonial websites safe to use?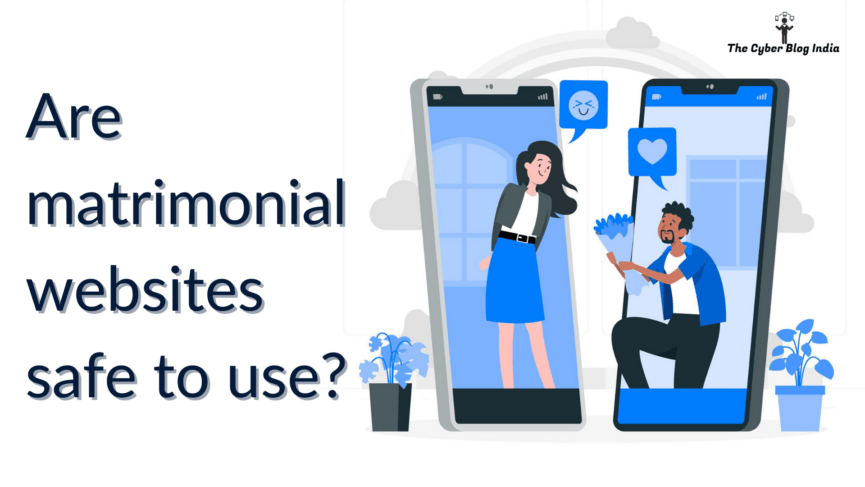 The use of matrimonial websites has grown over the past few years. During the lockdown, a leading Indian matrimonial platform observed a 30% increase in the number of average daily registrations. Increased usage makes such sites more prone to cyber crimes, as has been reported in the recent past. Yet, there is no definite answer to the question of whether these websites are safe for finding a life partner. This article analyses the kinds of cases that we come across regularly and suggests measures to avoid unpleasant situations.
Before getting into the kinds of cyber crimes and frauds taking place on such sites, I will be elaborating on why these crimes occur in the first place.
Reasons why people fall prey to cyber crimes on matrimonial websites
The phrase think before you talk may be extended to think before you type. Most people forget the repercussions of what they type. For example, we are generally secretive about details such as salary, financial assets, etc., but, when it comes to finding a partner online, we put all our details on display. While one may think that this increases our credibility; it also increases the chances a perpetrator missing your personal information. Most people think that money is a major factor in finding a partner, but one must be careful about putting out one's profile on public platforms.
Love may be blind, but it need not be deaf and dumb as well. Finding love online these days means that physical verification is not possible. We tend to ignore subtle red flags in online meetings, and people turn a blind eye to things they would have otherwise found suspicious. It is important to treat people who one meets through such websites in the same way as one would have if meeting in person.
Most people who register themselves on matrimonial websites want to settle down or find a perfect match. This makes them vulnerable and easier targets for cyber crimes.
Perpetrators establish a sense of trust by investing time in the people they meet online. They may talk to the victim for even 3 to 6 months just to establish a sense of trust and make them more vulnerable. They also spend time talking to the victim's family or friends to create an impression and gain the victim's trust. The perpetrators also claim to belong to well-accepted professionals, such as doctors, lawyers, businessmen, etc. to establish a sense of social security and trust.
Cases involving cyber crimes through matrimonial websites
1. A Pune-based techie loses 10 lakh rupees, instead of receiving gifts
As per a news article published in October 2019, a woman, a resident of Bavdhan, working in an IT Sector in Pune lost 10 lakh rupees due to a matrimonial fraud. The incident occurred in the first two weeks of September 2019. The conman claimed to have sent the techie gifts from the Netherlands which were seized by customs officials at New Delhi. These gifts included a ring, perfumes, a high-end laptop, and many more such things. She then got a phone call from the customs office asking her to send money to release the above-mentioned gifts.
The official also mentioned that this amount was refundable, and the woman was made to send money to eight different bank accounts. After transferring the money she realised that she had been duped as the conman who claimed to be an NRI stopped responding to her calls and messages. She even found out that there was no seizure of goods at the New Delhi customs office, and the call that she got from the customs officer was fake. She lodged a complaint at the Hadapsar police station on December 28, 2019.
A similar case occurred recently in July 2020 in Goa, where a woman was duped on a matrimonial site and the imposter duped her of 35 lakh rupees on the pretext of custom clearance.
2. A Hyderabad-based software engineer loses 1 crore rupees
In another case reported by the Times of India in June 2020, a 33-year-old Software Engineer in Hyderabad was allegedly duped of Rs 1 crore by a woman he met online through a matrimonial website in 2018. The fraudster introduced herself as a doctor of Indian origin who was residing in Baltimore. The software professional was so smitten by the woman and the chats they had on Telegram and WhatsApp that he was ready to pay any amount of money that she asked for. The victim's monthly salary was about Rs 80,000 and he utilised savings along with borrowing to send her the money. The KPHB police station registered a case under Sections 420 and 406 of the Indian Penal Code, 1860, and Section 66 of the Information Technology Act, 2000.
Earlier in March 2020, the Hyderabad police arrested a gang of four individuals comprising of a Nigerian and three Nepalese nationals. These scammers tricked a doctor into transferring seven lakh rupees in their bank accounts. This was under the pretext for GST and custom clearance payments for gifts and jewellery.
3. Sexual harassment and extortion
In April 2020, one victim got in touch with us for seeking assistance in a case involving sexual harassment and extortion. According to her, she signed up on a popular matrimonial website and started exploring the platform. One individual, claimed to be a Navratna PSU employee and posted to a European country, contacted her. Over time, he shared many fake pieces of information to gain her trust. These included employee ID cards, GPS locations, and salary receipts. A couple of months, he asked her to send her nude photos. While she initially sent the pictures, she came to know that he was also screen-recording their calls. When she informed him that her parents had fixed her engagement, he started blackmailing her using those pictures and screen-recorded videos.
Since then to the time of publication of this article, we have received 17 cases with similar modus operandi.
Relevant laws
1. Identity Theft
According to Section 66C of the Information Technology Act, 2000, it is an incident of identity theft when someone fraudulently or dishonestly uses your electronic signature, password, or any other unique identification feature. Other provisions that may be applicable vary from case to case. Relevant provisions from the Indian Penal Code, 1860:
Section 464: Forgery
Section 465: False documents
Section 468: Forgery for the purpose of cheating
Section 469: Forgery for harming reputation
Section 471: Using a forged document or electronic record as genuine
Section 474: Possession of a forged document with an intention to use as genuine
2. Financial Frauds
Financial frauds on matrimonial websites are punishable by law. They may involve the application of Sections 66C and 66D of the Information Technology Act, 2000. However, relevant provisions from the Indian Penal Code, 1860 are applicable such as Sections 406 and 420.
3. Sexual harassment and extortion
While the exact provisions will vary from one case to another, the following provisions from the Information Technology Act, 2000 are relevant.
Section 66E: Violation of privacy
Section 67: Publication and transmission of obscene content
Section 67A: Publication and transmission of sexually explicit content
While on the other hand, Sections 354C (voyeurism), 354D (stalking), and 384 to 387 (extortion) from the Indian Penal Code, 1860 are applicable.
Best Practices
Every platform out there will have its pros and cons and the same goes for matrimonial websites. It becomes your responsibility to ensure that you perform due diligence for any individual that you meet online.
As a thumb rule, you should not trust any person you meet online. If you do trust, ALWAYS verify.
We recommend our readers to follow these best practices to minimise the chances of falling prey to cyber crimes:
Do an extensive background check on the other person before revealing your personal information.
Do not believe everything that the other person says.
Take your time and make an informed decision.
Talk to your friend or family members as they will have a fresh pair of eyes.
Do not share your financial information, or make any payments for any reason whatsoever.
---
With inputs from Raj Pagariya.
For contributing to our blog and knowledge base, write to us at contact@cyberblogindia.in and elaborate on how you can help us in creating a safer cyber space.
---
Featured Image Credits: People vector created by stories – www.freepik.com