Anu Mathew v. State of Kerala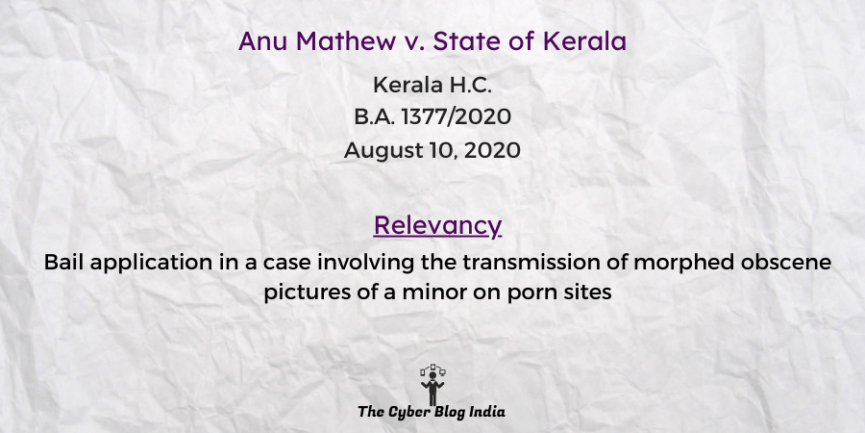 Anu Mathew v. State of Kerala
In the High Court of Kerala
B.A. 1377/2020
Before Justice P V Kunhikrishnan
Decided on August 10, 2020
Relevancy of the case: Bail application in a case involving the transmission of morphed obscene pictures of a minor on porn sites
Statutes and Provisions Involved
The Information Technology Act, 2000 (Section 67, 66A, 66E)
The Indian Penal Code, 1860 (Section 354A, 354D, 290, 507, 503, 465, 466, 500, 509)
The Protection of Children from Sexual Offences Act, 2012 (Section 11, 12)
The Indecent Representation of Women (Prohibition) Act, 1986 (Section 3)
Relevant Facts of the Case
The first petitioner allegedly morphed and uploaded pictures of the de facto complainant's daughter (13 years old) on porn websites.
Also, the second petitioner, who is the father of the first petitioner allegedly gave statements on Facebook which defamed the complainant.
Prominent Arguments by the Advocates
The petitioners' counsel submitted that no allegations are made out for his clients, especially the second petitioner.
The respondent's counsel argued that the allegations are serious as the morphed photographs were uploaded on pornographic websites.
Opinion of the Bench
Considering the precedent of bail is a rule, jail is an exception, the court gave its decision.
The court also believed that custodial interrogation was necessary for investigation in the case of the first petitioner.
Final Decision
Bail granted to the second petitioner, subject to certain conditions.
Bail application for the first petitioner dismissed.