Amish Devgan v. Union of India & Ors.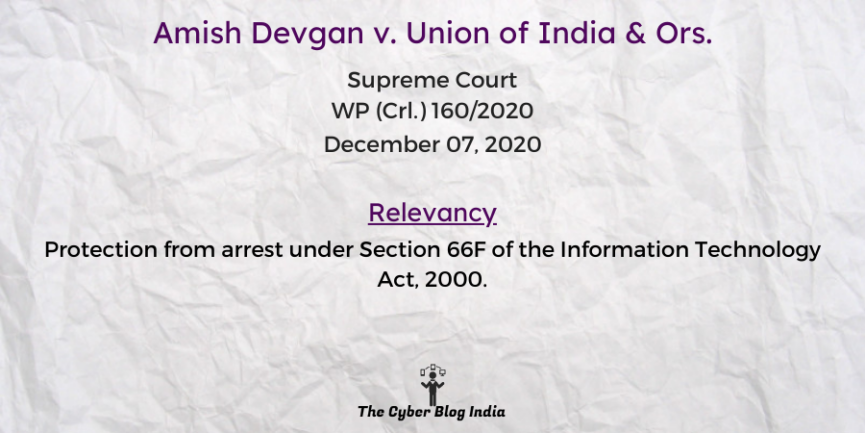 Amish Devgan v. Union of India & Ors.
In the Supreme Court of India
WP (Crl.) 160/2020
Before Justice A.M. Khanwilkar and Justice Sanjiv Khanna
Decided on December 07, 2020
Relevancy of the case: Protection from arrest under Section 66F of the Information Technology Act, 2000.
Statutes and Provisions Involved
The Information Technology Act, 2000 (Section 66F)
The Indian Penal Code, 1860 (Section 153B, 295A, 298, 505(2))
The Constitution of India, 1950 (Article 19(1)(a), 19(2))
Relevant Facts of the Case
A news anchor was accused of hurting religious sentiments and inciting religious hatred. Subsequently, seven FIRs were filed against him, across cities and states.
Prominent Arguments by the Advocates
The petitioner's counsel stated that the petitioner was given death threats on social media, and had apologized for the same. No offence can be made out under Section 66F of the Information Technology Act, 2000 as allegations were made on utterances in isolation and not on the program as a whole. The petitioner did not have the malicious intent to outrage religious beliefs.
The respondent's counsel submitted that the apology itself indicates the implied acceptance of the crime.
Opinion of the Bench
In the case of Shreya Singhal v. Union of India, the Supreme Court had adopted the 'scales test' to criminalize offensive speech. It laid down that there should be a proximate nexus between words spoken and 'imminent lawless action' or 'clear and present danger'. It also held that restrictions on free speech must be reasonable; not arbitrary, vague or over-breadth.
The context, intent, and impact/harm would need to be evaluated in order to ascertain the merits of the charges. Thus, at the given stage, it would be inappropriate to quash the FIRs.
All FIRs transferred to the location where the first FIR was registered.
Final Decision
Request for quashing of FIRs rejected.
Interim protection from arrest subject to certain conditions granted.
Writ petitions and all pending applications disposed of accordingly.
---
This case summary has been prepared by Akshita Rohatgi, an undergraduate student at University School of Law and Legal Studies, GGSIPU, during her internship with The Cyber Blog India in January/February 2021.