Ajay Kumar v. State of Bihar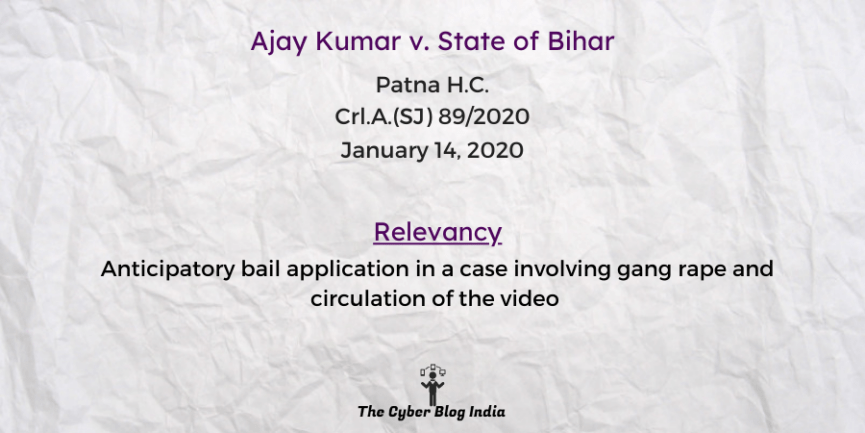 Ajay Kumar v. State of Bihar
In the High Court of Patna
Crl.A.(SJ) 89/2020
Before Justice Rajendra Kumar Mishra
Decided on January 14, 2020
Relevancy of the case: Anticipatory bail application in a case involving gang rape and circulation of the video 
Statutes and Provisions Involved
The Information Technology Act, 2000 (Section 67, 67A)

The Indian Penal Code, 1860 (Section 376D)

The Scheduled Castes and Scheduled Tribes (Prevention of Atrocities) Act, 1989 (Section 3(2)(v), 14A(2))
Relevant Facts of the Case
The informant alleged that the petitioner forcibly took her to a village and gang-raped her along with five other men.

Further, the accused persons allegedly made a video of the act and subsequently made it viral.

The Sessions Court rejected the plea of anticipatory bail, and hence, the present appeal.
Prominent Arguments by the Advocates 
The petitioner's counsel submitted that upon seeing the video, the informant came to know that the petitioner was not present at the time and place of the alleged occurrence. After that, she also filed a separate application in the Court of Special judge.
Opinion of the Bench
Considering the facts and circumstances of the case and the nature of the allegation, the Court was not inclined to grant the privilege of anticipatory bail.
Final Decision