Abdul Jaleel K. v. State of Kerala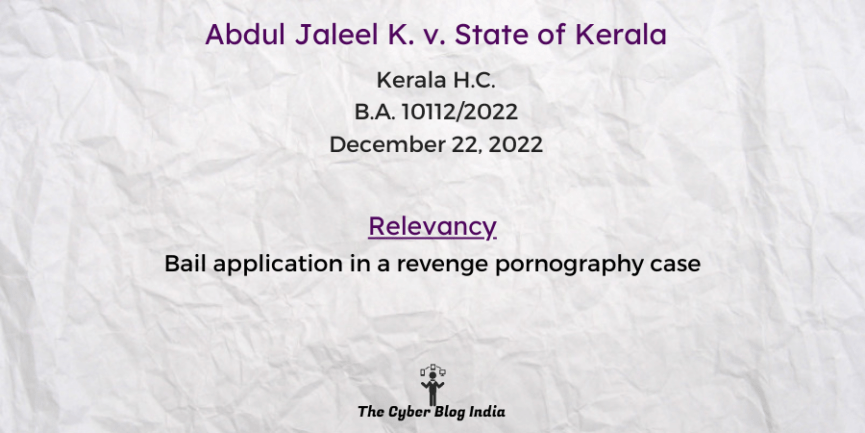 Abdul Jaleel K. v. State of Kerala
In the High Court of Kerala
B.A. 10112/2022
Before Justice Bechu Kurian Thomas
Decided on December 22, 2022
Relevancy of the case: Bail application in a revenge pornography case
Statutes and Provisions Involved
The Information Technology Act, 2000 (Section 66E, 67, 67A)
The Indian Penal Code, 1860 (Section 354, 506)
Relevant Facts of the Case
The accused and the victim became friends on social media. The victim sent her nude photographs and videos to the accused.
The victim expressed her unwillingness to continue their relationship with the accused.
The accused, in anger, criminally intimidated and published the said photographs and videos through social media without the victim's consent.
Prominent Arguments by the Advocates
The petitioner's counsel argued that the prosecution's allegations were false since the incident never occurred.
The respondent's counsel submitted that the accused could continue to influence and intimidate the victim, given the seriousness of the allegations.
Opinion of the Bench
The allegations made are serious.
The period of detention and the circumstances must be considered.
Final Decision
The bench granted the bail application.