Yahoo India Pvt. Ltd. v. State of Himachal Pradesh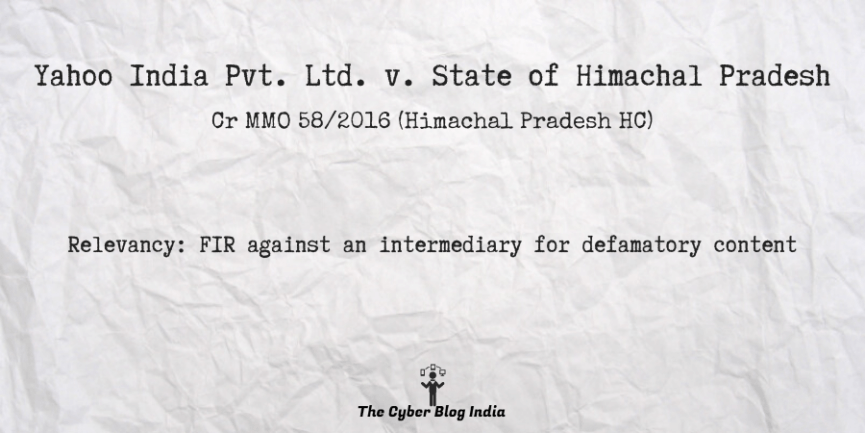 Yahoo India Pvt. Ltd. v. State of Himachal Pradesh
In the High Court of Himachal Pradesh
Cr MMO 58/2016
Before Justice Rajiv Sharma
Decided on March 09, 2016
Relevancy of the case: FIR against an intermediary for defamatory content
Statutes & Provisions Involved
The Information Technology Act, 2000 (Section 2(1)(w))
The Indian Penal Code, 1860 (Section 505(2))
The Code of Criminal Procedure, 1973 (Section 196, 482)
Relevant Facts of the Case
The petitioner has a licensing arrangement with news agencies for publishing their news reports on its website (Yahoo.co.in).
An article titled "Now Jadavpur Varsity Students raise slogans raise pro-Afzal and Azadi" was posted.
Along with the article, an image of Himachal Pradesh University unit of the SFI was displayed on the petitioner's website for a short duration between 7:00 PM on 16.02.2016 and 10:00 PM on 17.02.2016.
The petitioner prominently published a public apology on its website on 25.02.2016 and 26.02.2016.
In the meantime, FIR No. 0060 dated 20.02.2016 was registered against the website under Section 505(2) of the Indian Penal Code, 1860.
Prominent Arguments by the Advocates
The counsel for Yahoo India argued that the registration of the FIR was, per se, bad in law since it was in contravention with the provisions of Section 196 of the Code of Criminal Procedure, 1973. He further contended that his client had no mens rea to commit an offence and the essential ingredients of Section 505(2) of the Indian Penal Code are satisfied. He relied upon the fact that as per Section 2(1)(w) of the Information Technology Act, 2000, his client was merely an intermediary. He also mentioned his client is willing to pay a settlement amount of ₹1 lakh to the respondents.
Final Decision
FIR number 060 was quashed under Section 482 of the Code of Criminal Procedure, 1973.
The petitioner is directed to deposit a sum of ₹2 lakhs (one lakh each for respondents numbers 3 and 4) in the registry of the Court within one week.
The present petition is disposed of.
---
इस केस के सारांश को हिंदी में पढ़ने के लिए यहाँ क्लिक करें | To read this case summary in Hindi, click here.