Vivek Chari v. State of M.P.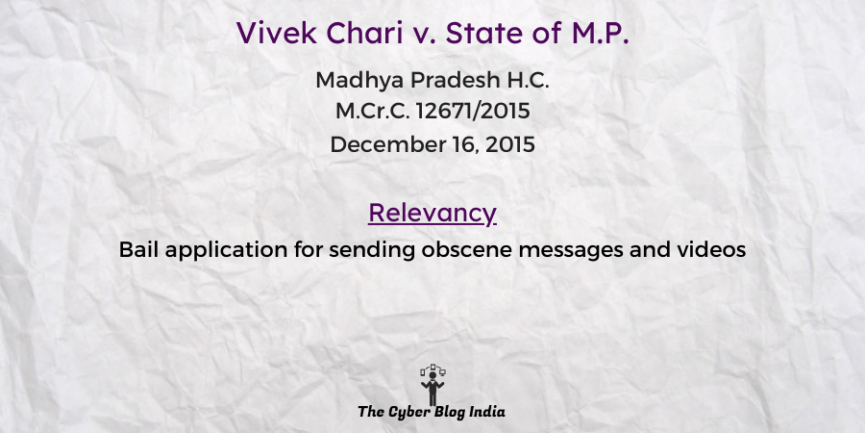 Vivek Chari v. State of M.P.
In the High Court of Madhya Pradesh
M.Cr.C. 12671/2015
Before Justice S K Palo
Decided on December 16, 2015
Relevancy of the case: Bail application for sending obscene messages and videos.
Statutes and Provisions Involved
The Information Technology Act, 2000 (Section 67)

The Indian Penal Code, 1860 (Section 292, 507, 509)

The Code of Criminal Procedure, 1973 (Section 439)
Relevant Facts of the Case
The applicant allegedly sent obscene videos and messages to the complainant.
Prominent Arguments by the Advocates
The applicant's counsel argued that the numbers from which the messages were sent did not belong to the applicant.

The respondent's counsel submitted that he is unable to give the number from which the messages were sent.
Opinion of the Bench
No opinion on the merits of the case is expressed. 
Final Decision
Application allowed.

Bail granted with stringent conditions.
---
This case summary has been prepared by Shubhangi Gehlot, an undergraduate student at Law Faculty, Maharaja Sayajirao University of Baroda, during her internship with The Cyber Blog India in May/June 2021.