Vishal Rajput v. State of Himachal Pradesh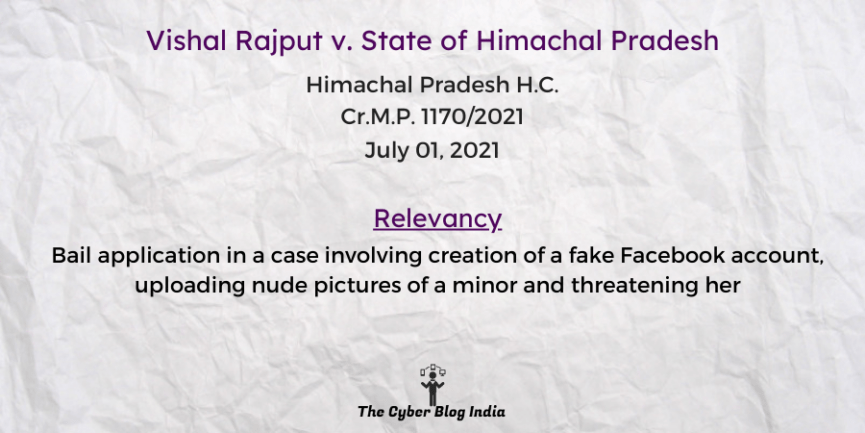 Vishal Rajput v. State of Himachal Pradesh
In the High Court of Himachal Pradesh
Cr.M.P. 1170/2021
Before Justice Jyotsna Rewal Dua
Decided on July 01, 2021
Relevancy of the Case: Bail application in a case involving creation of a fake Facebook account, uploading nude pictures of a minor and threatening her
Statutes and Provisions Involved
The Information Technology Act, 2000 (Section 66, 67A)
The Indian Penal Code, 1860 (Section 354D, 506)
The Protection of Children from Sexual Offences Act, 2012 (Section 12)
The Code of Criminal Procedure, 1973 (Section 161, 164, 439)
Relevant Facts of the Case
The petitioner kept calling and sending obscene messages to the complainant's daughter. He threatened her and demanded her nude photographs.
Under the petitioner's threats, the prosecutrix sent her nude photographs on WhatsApp.
Further, he created her fake account on Facebook and uploaded these pictures.
The petitioner committed this act as a revenge because the prosecutrix rejected his offer for marriage twice.
At the time of this incident, the age of the prosecutrix is 15 years.
Prominent Arguments of the Advocates
The petitioner's counsel submitted that he has cooperated with the investigation agency. The petitioner would abide by all the conditions that the court will impose.
Opinion of the Bench
The petitioner exhibited good behaviour during the period of custody of four months. As he belongs to another state, there is less possibility of threatening or intimidating the prosecutrix.
Final Decision
The court granted bail with stringent conditions.
---
T S VS Nivedita, a postgraduate student at O.P. Jindal University, prepared this case summary during her association with The Cyber Blog India in January 2022.