Sukhpal Singh Khaira v. State of Punjab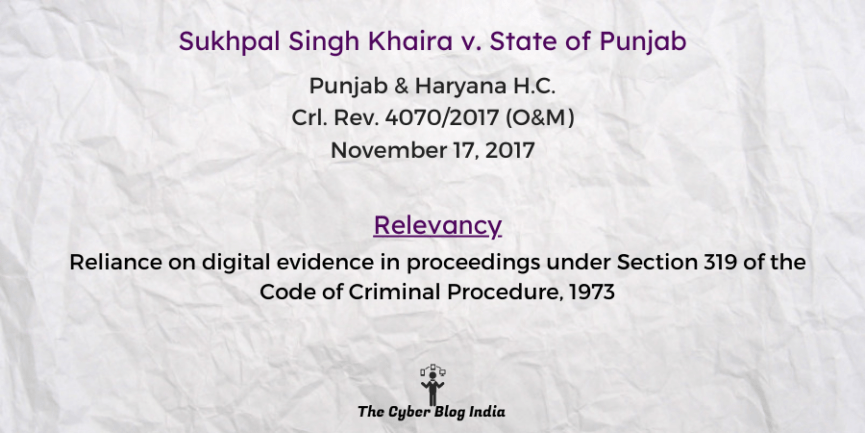 Sukhpal Singh Khaira v. State of Punjab
In the High Court of Punjab & Haryana
Crl. Rev. 4070/2017 (O&M)
Before Justice A B Chaudhari
Decided on November 17, 2017
Relevancy of the case: Reliance on digital evidence in proceedings under Section 319 of the Code of Criminal Procedure, 1973
Statutes and Provisions Involved
The Information Technology Act, 2000 (Section 66)
The Narcotic Drugs and Psychotropic Substances Act, 1985 (Section 21, 24, 25, 27, 28, 29, 30)
The Arms Act, 1957 (Section 25A)
The Code of Criminal Procedure, 1973 (Section 311, 319)
Relevant Facts of the Case
The present petition was filed because the petitioner wished the Central Bureau of Investigation (CBI) to investigate his case as he was an eminent personality who believed that the earlier plea against him was malicious.
The original case was filed against ten accused persons concerning drug trafficking from Pakistan.
While the original trial was going on, someone made a request to call additional accused for the trial. This request was allowed.
A Special Investigation Team was also set up to look into the FIR and the challans that were filed.
While the trial was going on, a higher court directed the trial court to decide the case within 3 months.
Hence the court separated the original case and the case under Section 319 of the Code of Criminal Procedure, 1973.
All 10 accused were convicted in the original case, while the separated case was decided by the impugned order.
Prominent Arguments by the Advocates
The petitioners' counsel submitted that the whole case was mala fide and carried out to cause damage to the petitioner's reputation. Another point brought in was that the impugned order relied wholly on the witness' statements that would be inadmissible in court as the emails, call details, etc., were not authenticated.
The respondent's counsel argued that the evidence on which the accused was summoned was sufficient and good. The petitioners had enough opportunity to oppose the same during the trial. The trial court found a prima facie case against the petitioners and hence issued non-bailable warrants against them considering the seriousness of the offence.
Opinion of the Bench
The court clarified that if the trial court finds sufficient evidence, then they can call for the additional accused in the case.
The bench perused the documents and concluded that under Section 319, the accused has the opportunity to question the validity of evidence, all the while the prosecution would not be forbidden to bring such evidence to the court.
The bench believed that the trial court shouldn't have handed out non-bailable warrants instead of summoning the accused and hence the same has been set aside.
It was held that the investigating authority has the power to file supplementary charge sheets.
Final Decision
Impugned order upheld.
Criminal Revision 4070/2017 and Criminal Revision 4113/2017 dismissed.