Shantheeshlal T. v. State of Kerala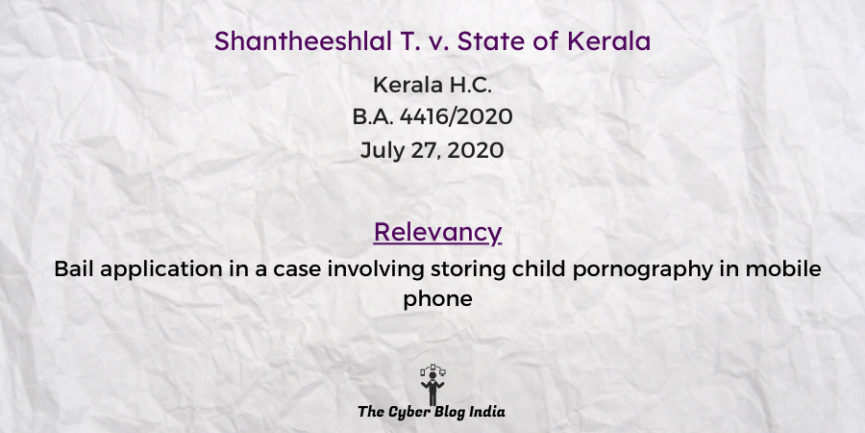 Shantheeshlal T. v. State of Kerala
In the High Court of Kerala
B.A. 4416/2020
Before Justice P.V. Kunhikrishnan
Decided on July 27, 2020
Relevancy of the case: Bail application in a case involving storing child pornography in mobile phone
Statutes and Provisions Involved
The Information Technology Act, 2000 (Section 67B)
The Protection of Children from Sexual Offences Act, 2012 (Section 15)
The Code of Criminal Procedure, 1973 (Section 439)
Relevant Facts of the Case
The Inspector, upon reliable information, conducted a search in the petitioner's house.
The petitioner's mobile phone contained child pornography videos and more than 300 obscene pictures, including those of children.
The petitioner's mobile phone was seized, a case was registered, and he was arrested. Thereafter, the petitioner applied for the present bail application.
Prominent Arguments by the Advocates
The petitioner's counsel argued that the petitioner has not committed any offence, that he is a medical student, and would abide by all conditions for bail.
The respondent's counsel submitted that the petitioner had committed a serious offence and had stored those videos for commercial purposes, therefore, bail should not be granted.
Opinion of the Bench
The Court was of the view that the bail application can be allowed as the petitioner was already in custody and his mobile phone had also been seized. Further, relying on the judgment of the Supreme Court in Re: Contagion of COVID-19 Virus In Prisons case and the Kerala High Court itself in W.P.(C) 9400/2020 had laid down salutary directions to minimise the number of inmates inside prisons.
Moreover, relying on the principle that bail should be the norm and jail the exception for securing a fair trial was followed and bail was granted.
Final Decision
Application allowed.
Bail granted, subject to certain conditions.