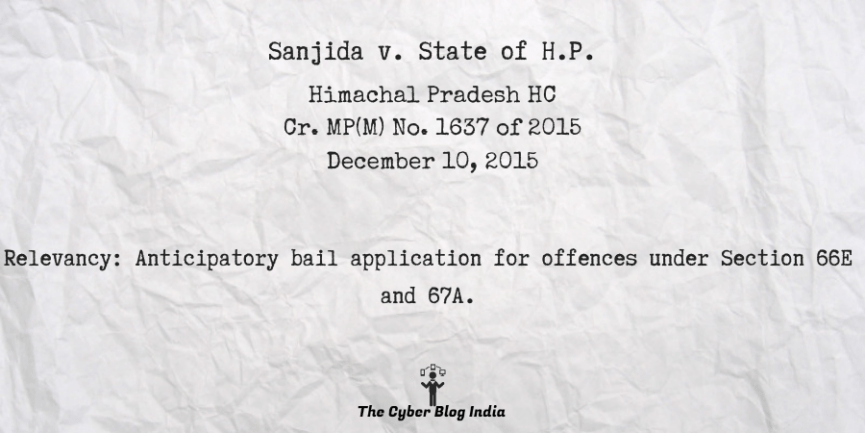 Sanjida v. State of H.P.
In the High Court of Himachal Pradesh
Cr. MP(M) 1637/2015
Before Justice P.S. Rana
Decided on December 10, 2015
Relevancy of the case: Anticipatory bail application for offences under Section 66E and 67A
Statutes and Provisions Involved
The Information Technology Act, 2000 (Section 66E, 67A)
The Code of Criminal Procedure, 1973 (Section 173, 438)
Relevant Facts of the Case
The petitioner is the complainant's neighbour for the past 15 years. An FIR has been lodged against the petitioner under Section 66E and 67A of the Information Technology Act, 2000 as a counterblast against the FIR filed by the petitioner initially.
The petitioner was having physical relations with Kabiroodeen. After the complainant met Kabiroodeen through the petitioner, they also started having physical relations with each other.
The petitioner is accused of blackmailing and distributing CD of MMS of the complainant while the complainant was indulging in sexual activities with Kabiroodeen. The petitioner had allegedly fixed mobile cameras and prepared their MMS videos.
Mobile phones of the complainant and the petitioner were taken into possession and have been sent to Forensic Science Laboratory for examination. Further, the petitioner had also prepared CD of absurd photos of the complainant and distributed it in the public.
Request for anticipatory bail is sought hereafter.
Prominent Arguments by the Advocates
The petitioner's counsel submitted that the crime is not proven yet and can only be done through an efficient trial by this court. Also, any conditions set by the court will be binding on the petitioner.
The respondent's counsel submitted that there are heinous allegations on the petitioner and if bail is granted, she can induce threat to prosecution witnesses.
Final Decision
The anticipatory bail application is rejected.
---
This case summary has been prepared by Neelangini Tiwari, an undergraduate student at Kirori Mal College, DU, during her internship with The Cyber Blog India in January/February 2021.