Niraj Cement Structurals Ltd. v. Union of India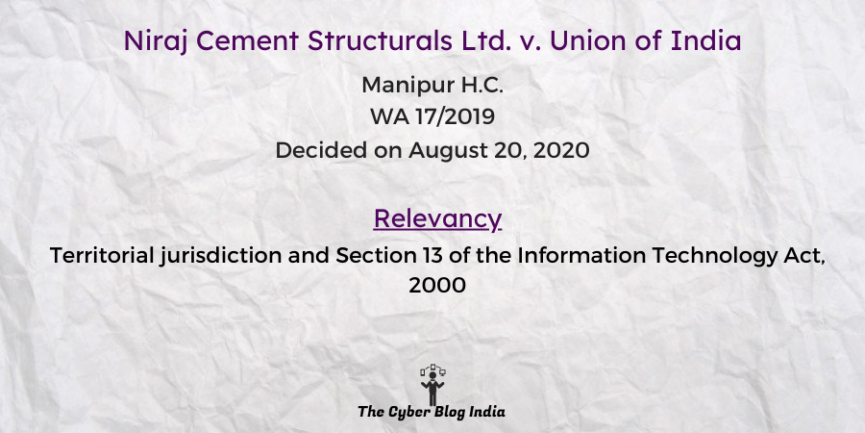 Niraj Cement Structurals Ltd. v. Union of India
In the High Court of Manipur
WA 17/2019
Before Chief Justice R. Sudhakar and Justice L. Jamir
Decided on August 20, 2020
Relevancy of the Case: Territorial jurisdiction and Section 13 of the Information Technology Act, 2000
Statutes and Provisions Involved
The Information Technology Act, 2000 (Section 13)
The Constitution of India, 1950 (Article 226)
The Specific Relief Act, 1963 (Section 14, 20A)
Relevant Facts of the Case
India, Myanmar and Thailand signed a memorandum of understanding for constructing or upgrading the 69 bridges in the trilateral highway. Hence, the respondent invited online bids for the project.
The petitioner submitted the bid and received the letter of acceptance via e-mail at its office in Manipur.
However, the respondent terminated the contract after multiple alleged non-compliance with the Engineering Procurement and Construction agreement. Afterwards, the petitioner received the termination e-mail in Manipur.
The petitioner claims that the termination is against the agreement. On the other hand, the respondent denies the jurisdiction of the Manipur High Court in the present case.
Prominent Arguments by the Advocates
The petitioner's counsel submitted that as per section 13(3) of the Information Technology Act, 2000, the electronic record is deemed to be received at the addressee's place of business. Therefore, this Hon'ble Court has jurisdiction to hear the matter.
In contrast, the respondent's counsel submitted that the respondent sent the letter to the petitioner's registered office in Mumbai. As per Section 13(5) of the Information Technology Act, 2000, the cause of action arises at the addressee's principal place of business. Moreover, the agreement vests exclusive jurisdiction in Delhi courts for adjudicating the disputes arising from the contract.
 Opinion of the Bench
The petitioner did not comply with the agreement and concealed documents.
Also, alternative reliefs like arbitration are available for dispute resolution. Moreover, the court cannot determine the technical aspects involved in the dispute.
As per Sections 14(d) and 20A of the Specific Relief Act, 1963, the court cannot issue an injunction order in the matter involving the infrastructural project.
Final Decision
Thus, the bench dismissed the writ petition without cost.