Mohammad Sakeel v. State of Haryana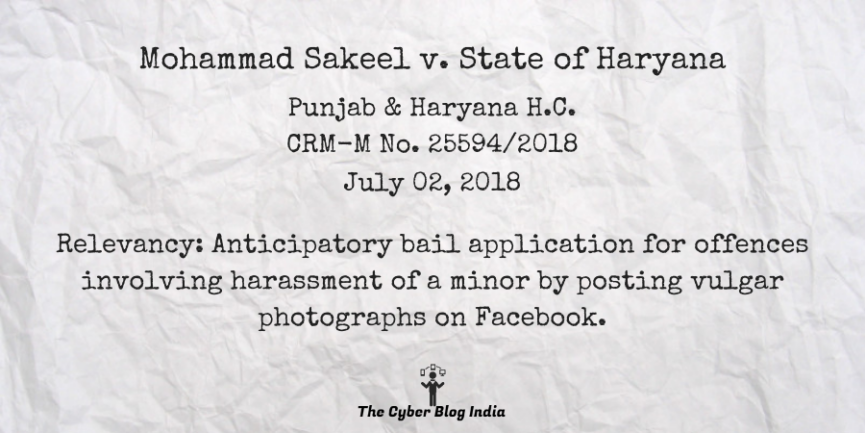 Mohammad Sakeel v. State of Haryana
In the High Court of Punjab and Haryana
CRM-M 25594/2018
Before Justice Gurvinder Singh Gill
Decided on July 02, 2018
Relevancy of the case: Anticipatory bail application for offences involving harassment of a minor by posting vulgar photographs on Facebook.
Statutes and Provisions Involved
The Information Technology Act, 2000 (Section 66C, 67A, 67B)
The Indian Penal Code, 1860 (Section 506)
The Protection of Children from Sexual Offences (POCSO) Act, 2012 (Section 12)
The Code of Criminal Procedure, 1973 (Section 438)
Relevant Facts of the Case
The petitioner was accused of harassing a minor girl by posting photographs on Facebook with vulgar and lewd remarks and comments.
He stated that he had been falsely implicated and that there is no credible evidence against him.
Opinion of the Bench
According to the affidavit which was submitted by the police, the nodal officer of Facebook was issued a notice and he supplied the report to the police. This report revealed the mobile numbers being used by the accused. Two fake IDs were used for obtaining these mobile numbers and using the accounts connected with these mobile numbers, the accused uploaded photos with objectionable text and recorded obscene comments on them.
Final Decision
---
This case summary has been prepared by Loreal Sahay, an undergraduate student at the University School of Law and Legal Studies, GGSIPU, during her internship with The Cyber Blog India in January/February 2021.