Megha Engineering and Infrastructures Ltd. v. Oil India Ltd.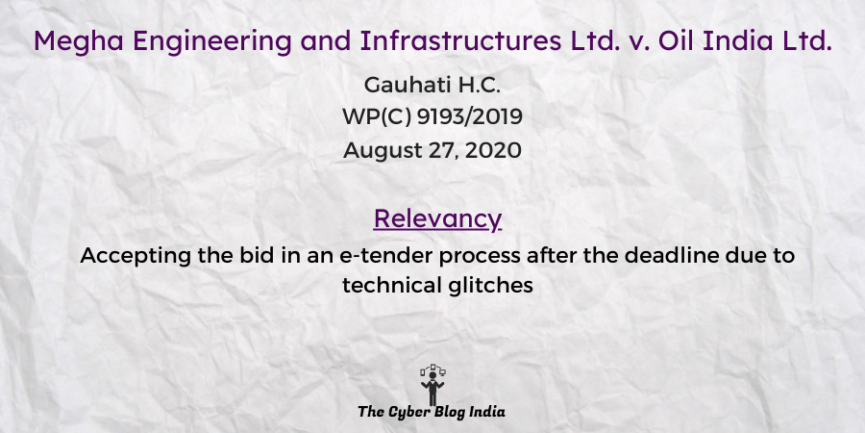 Megha Engineering and Infrastructures Ltd. v. Oil India Ltd.
(2021) 1 Gau LR 212
In the High Court of Gauhati
WP(C) 9193/2019
Before Justice Prasanta Kumar Deka
Decided on August 27, 2020
Relevancy of the Case: Accepting the bid in an e-tender process after the deadline due to technical glitches
Statutes and Provisions Involved
The Information Technology Act, 2000 (Section 13)
Relevant Facts of the Case
The respondent opened an e-tender under the International Competitive Bidding. The bidder has to submit a technical bid and a commercial bid after technical evaluation.
The guidelines for online bid submission cautioned on the delay or failure in the submission due to technical glitches and network failures. It further declared that the respondent is not responsible for the submission failures. Also, the respondent extended the deadline six times.
The petitioner digitally signed and saved the documents on the portal. However, it failed to submit the technical bid on time due to the non-functionality of the 'Submit' button even after re-logging the web page.
The petitioner alleged that the respondent acted arbitrarily and did not accept the bid.
Now, the petitioner requests the court to pass the order directing the respondent to accept the bid.
Prominent Arguments by the Advocates
The petitioner's counsel submitted that the petitioner uploaded, digitally signed, saved and tried to submit the bid within time. The petitioner also relied on L&T Hydrocarbon Engineering v. ONGC (2018) to substantiate their submission.
On the other hand, the respondent's counsel submitted that the portal functioned properly. Further, the guidelines mandated the non-acceptance of the bid beyond the submission date despite the technical glitches.
Opinion of the Bench
The court discussed the e-tendering process. The three main components are the e-portal server, network and interface between the other two components.
The report of IIT Guhawati suggests that the respondent's web portal was functioning properly. The security audit log indicates that the petitioner did not lose connection to the server.
The screenshot of the e-portal suggests that the bid is incomplete. Accepting the respondent's bid will be injustice with other bidders.
As per Section 13 of the Information Technology Act, 2000, the electronic record dispatches on entering the computer resource beyond the control of the originator. In this case, the portal allowed the bidders to view and modify the documents till submission. The decryptor gets the encryption key for accessing the encrypted documents once they complete the submision. Here, the petitioner failed to submit and dispatch the documents.
As per the meaning of the term 'availability' in the Information Technology (Certifying Authorities) Rules, 2000, the documents are not reasonably available and usable as and when the respondent demands.
The respondent can download and decrypt documents. Nonetheless, it is unethical and amounts to hacking.
 Final Decision
The court dismissed the writ petition. Further, it cancelled the interim order to stay the bidding process.