Kamlesh Vaswani v. Union of India and Others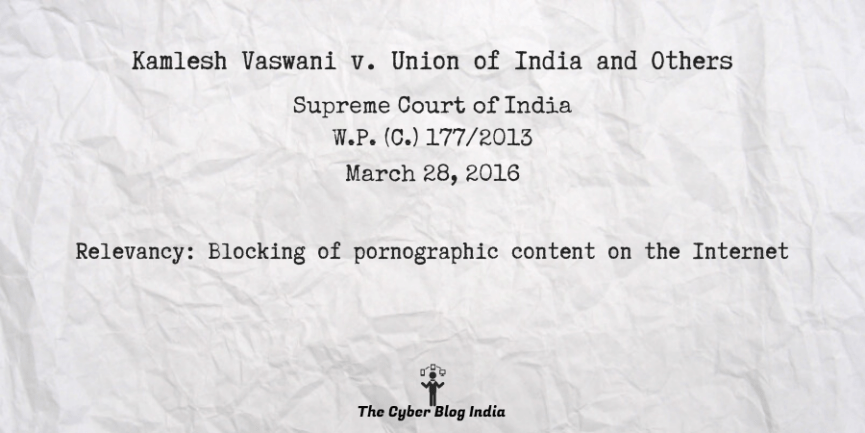 Kamlesh Vaswani v. Union of India and Others
(2016) 7 SCC 592
In the Supreme Court of India
Writ Petition (C) No.177/2013
Before Justice Dipak Mishra and Justice Shiva Kirti Singh
Decided on March 28, 2016
Relevancy of the case:  Blocking of pornographic content on the Internet
Statutes & Provisions Involved
The Information Technology Act, 2000 (Section 79(3)(b), 88)
Protection of Children from Sexual Offences Act, 2012 (Section 13, 14, 15)
Relevant Facts of the Case
A PIL was filed by the petitioner seeking a ban on pornographic content on the Internet. On 29-8-2014, the bench allowed ASG Mr. L. Nageswara Rao's plea requesting the interlocutory application and writ petition to be submitted by the government before the Cyber Regulatory Advisory Committee as this subject was assigned to the said committee under Section 88 of the Information Technology Act, 2000.
On 26-2-2016, the bench allowed an interlocutory application filed by the Supreme Court Women Lawyers' Association. The interlocutory applications sought to direct the Central Government to block the pornographic websites, issuing proper directions to the Ministry of Communication and Information Technology and the Ministry of Human Resources Development.
Prominent Arguments by the Advocates
Mr Vijay Panjwani, Counsel for the Petitioner:
Watching porn in public places will not come under the ambit of Article 19(1) of the Constitution of India, and the court may ask the Central Government to prohibit watching porn in public places. He further submitted that freedom of speech cannot create a dent in the national character or the moral spine of the nation which comes within constitutional morality.
Counsels for the Respondent:
The learned ASG submitted that as far as child pornography is concerned, the relevant exercises have been taken and the Central Government would come up with the required schemes for issuing appropriate directions.
Final Decision
The case was posted for next hearing on April 25, 2016.
---
This case summary has been prepared by Afsana Khan, an undergraduate student at Symbiosis Law School, Hyderabad, during her internship with The Cyber Blog India in June/July 2020.