Kaliswari v. Secretary to Government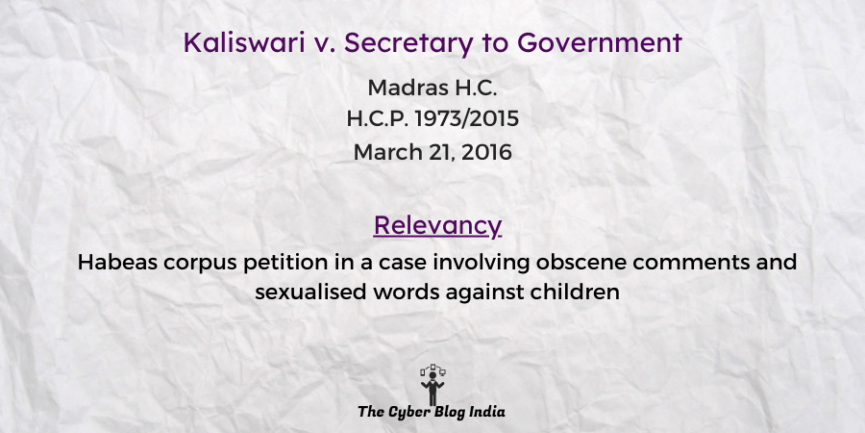 Kaliswari v. Secretary to Government
In the High Court of Madras
H.C.P. 1973/2015
Before Justice S. Nagamuthu and Justice M. Sathyanarayanan
Decided on March 21, 2016
Relevancy of the case: Habeas corpus petition in a case involving obscene comments and sexualised words against children
Statutes and Provisions Involved
The Information Technology Act, 2000 (Section 67, 67A, 67B)
The Constitution of India, 1947 (Article 226)
The Protection of Children from Sexual Offences Act, 2012 (Section 13, 14)
Relevant Facts of the Case
A volunteer who worked in an organization that works towards the prevention and healing of sexual abuse filed a complaint against the petitioner's son.
The volunteer has come across various obscene comments and sexualized words regarding children while browsing Facebook profiles on 06.05.2015. The same was corroborated with links and screenshots of the page.
The accused, who was detained, upon investigation, agreed to have been involved in the above-mentioned offences. Not only this, the detenu voluntarily gave a confession, which led to the discovery of two smartphones.
Thereafter, the accused was held captive for arrest and was kept under remand.
Prominent Arguments by the Advocates
The petitioner's counsel submitted that the petitioner was not able to make out the language, since he was not well versed with Tamil or English. Hence, he could not make effective representations against the orders.
Opinion of the Bench
The bench concluded that since the accused signed the detention papers in English, they could not take the argument of not knowing the language.
The Court hence did not find any merit in the Habeas Corpus petition.
Final Decision
The petition stands dismissed.
---
This case summary has been prepared by Tuba Aftab, an undergraduate student at IIMT & School of Law, GGSIPU, during her internship with The Cyber Blog India in May/June 2021.