Jolly Bansal v. State of Himachal Pradesh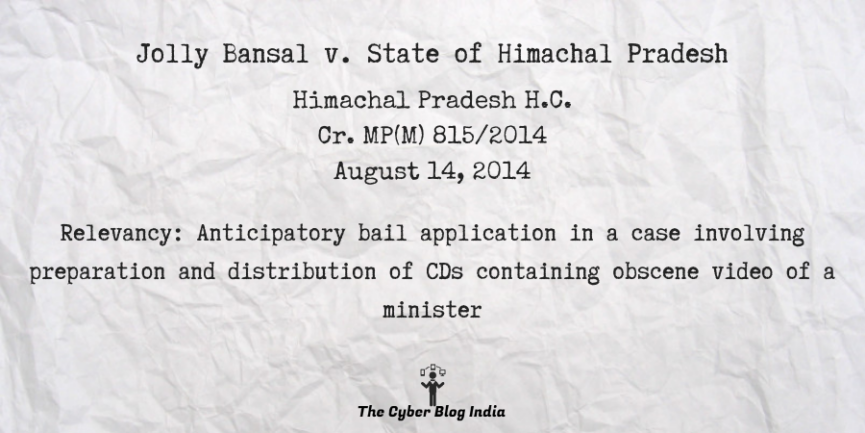 Jolly Bansal v. State of Himachal Pradesh
In the High Court of Himachal Pradesh
Cr. MP(M) 815/2014
Before Justice P.S. Rana
Decided on August 14, 2014
Relevancy of the case: Anticipatory bail application in a case involving preparation and distribution of CDs containing obscene video of a minister
Statutes and Provisions Involved
The Information Technology Act, 2000 (Section 66E, 67A)
The Indian Penal Code, 1860 (Sections 292, 465, 469, 471)
The Code of Criminal Procedure, 1973 (Section 82, 438)
Indecent Representation of Women (Prohibition) Act, 1986 (Section 6)
Relevant Facts of the Case
The cook of a government minister registered a complaint against the applicant stating that he had found a CD in which a person resembling the face of the minister was having sexual intercourse with some lady. This CD was allegedly recorded and circulated by the applicant to harm the reputation of the minister.
Another individual had received 200 obscene CDs of the minister and he stated that would distribute them in the city. The office, hotel and residence of the individual were searched and two CDs were recovered along with the computer, laptop and hard disk.
On investigation, it was found that the two CDs recovered from the office were sent by the applicant.
After investigation, it was pointed out that the applicant had sent a mail to the individual stating that the minister has been enjoying with females in the age group of 20 and 30 years regularly after the death of his wife and the same could be easily seen in the visual recording.
The applicant has filed the present application praying for a grant of anticipatory bail.
Prominent Arguments by the Advocates
The petitioner's counsel argued that the applicant has been falsely implicated. He is suffering from a cancerous brain tumour. He had undergone surgery in the past and at present and is on the prescription of oral chemotherapy. On this ground, anticipatory bail should be granted to him.
Opinion of the Bench
The Court believed that the applicant is not entitled to relief of anticipatory bail due to his act and conduct since he did not join the investigation and proceedings initiated against him. Custodial interrogation of the applicant is necessary to ascertain the preparation of CD, how the copies of CD were distributed, and whether obscene videos/CD were prepared in the presence of the applicant or not.
Final Decision
The bail application was rejected.
---
This case summary has been prepared by Ria Verma, an undergraduate student at Symbiosis Law School, Noida, during her internship with The Cyber Blog India in January/February 2021.