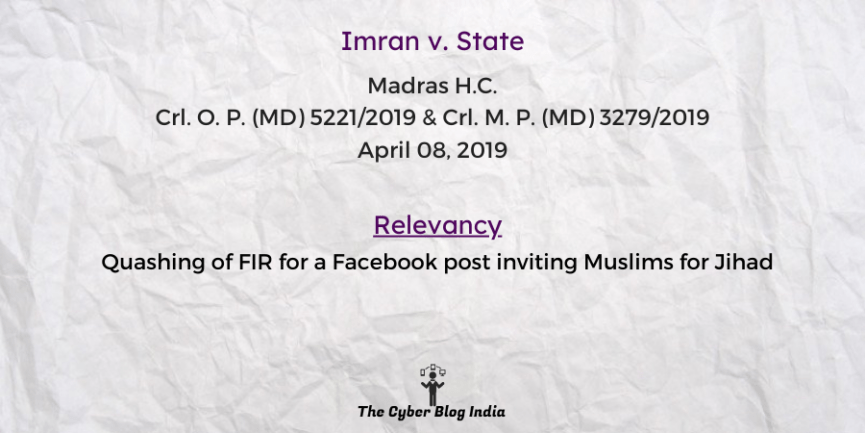 Imran v. State
In the High Court of Madras
CRL.O.P.(MD) 5221/2019 and CRL.M.P.(MD) 3279/2019
Before Justice M. Dhandapani
Decided on April 08, 2019
Relevancy of the case: Quashing of FIR for a Facebook post inviting Muslims for Jihad
Statutes and Provisions Involved
The Information Technology Act, 2000 (Section 67)
The Code of Criminal Procedure, 1973 (Section 482)
Relevant Facts of the Case
The FIR alleged that the petitioner had posted a message on Facebook inviting Muslims to perform Jihad.
The police registered a case as it threatened the internal security of the nation and promoted enmity between religious groups.
Prominent Arguments by the Advocates
The petitioner's counsel submitted that unless the message attracts Section 67 of the Information Technology Act, 2000, merely posting a message on Facebook will not enable the police to register a case.
The respondent's counsel stated that the message was posted to create enmity.
The petitioner's counsel requested the court to direct the law enforcement agency for completion of investigation and filing of reports.
Opinion of the Bench
The court relied on the FIR and opined that there was a commission of an offence.
It did not quash the FIR and asked the police to submit the report within two months.
Final Decision
Petition dismissed.
FIR not quashed.
---
This case summary has been prepared by Tuba Aftab, an undergraduate student at IIMT & School of Law, GGSIPU, during her internship with The Cyber Blog India in May/June 2021.