Gurpreet Singh v. State of Punjab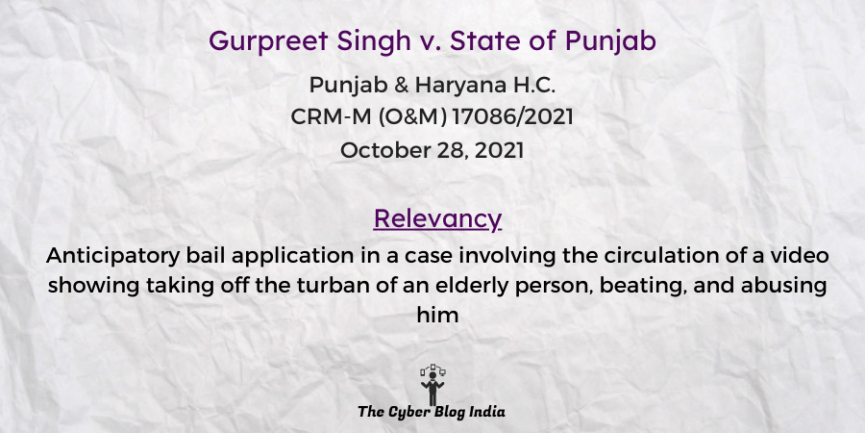 Gurpreet Singh v. State of Punjab
In the High Court of Punjab & Haryana
CRM-M (O&M) 17086/2021
Before Justice Anupinder Singh Grewal
Decided on October 28, 2021
Relevancy of the Case: Anticipatory bail application in a case involving the circulation of a video showing taking off the turban of an elderly person, beating, and abusing him
Statutes and Provisions Involved
The Information Technology Act, 2000 (Section 66E)
The Indian Penal Code, 1860 (Section 323, 341, 506, 148, 295A, 149)
Relevant Facts of the Case
A video is uploaded on Facebook of an elderly person aged 65 years in which his turban is taken off and is repeatedly beaten up and abused.
The petitioner and other accused persons recorded a video of this incident. As seen in the video, the elderly person was bleeding. Later, the accused persons (including the petitioner) uploaded the video to Facebook.
The petitioner has filed this anticipatory bail application under Section 295A. The petitioner submits that there is no prima facie evidence. Moreover, there is a delay of one year and five months in filing the FIR.
Opinion of the Bench
The bench noted that the turban is an important religious symbol. Recording a video of an elderly person in an injured condition without the turban and uploading it for the public on social media platforms would amount to hurting religious feelings.
Final Decision
The court rejected the anticipatory bail.
---
T S V S Nivedita, a postgraduate student at O.P. Jindal University, prepared this case summary during her association with The Cyber Blog India in January 2022.