Ajay Kapoor v. State of Punjab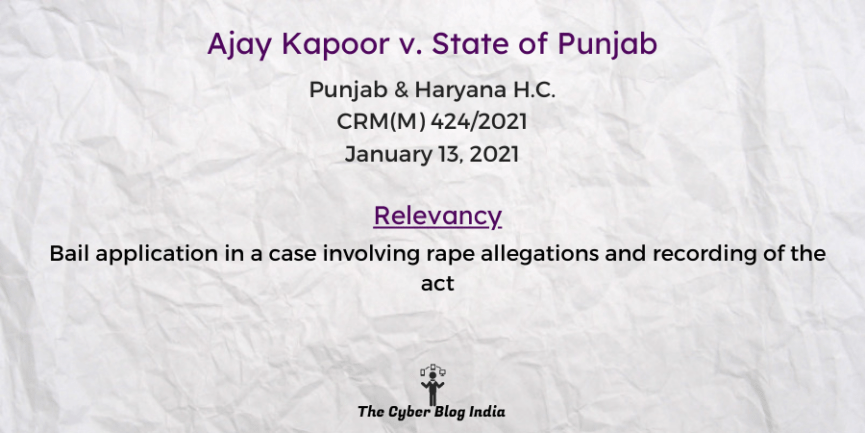 Ajay Kapoor v. State of Punjab
In the High Cout of Punjab & Haryana
CRM(M) 424/2021
Before Justice Hari Pal Verma
Decided on January 13, 2021
Relevancy of the Case: Bail application in a case involving rape allegations and recording of the act
Statutes and Provisions Involved
The Information Technology Act, 2000 (Section 67)
The Indian Penal Code, 1860 (Section 376, 376D, 292, 34)
The Code of Criminal Procedure, 1973 (Section 319)
Relevant Facts of the Case
The petitioner has filed a bail application concerning an FIR made under the above-mentioned provisions.
The allegations read that the accused has committed rape on the prosecutrix against her wishes.
One photograph in the petition shows the prosecutrix is in the company of the co-accused.
She alleges that the petitioner along with the co-accused raped her in a moving vehicle.
Prominent Arguments by the Advocates
The petitioner's counsel submits that the police has not found evidence against the petitioner during the investigation. The available evidence is only against the co-accused.
The State counsel argued that the allegations are serious in nature and hence, the court should not grant the bail.
Opinion of the Bench
It appears that the petitioner has no involvement in the case.
The culpability of the petitioner is yet to be proven through the trial for which the petitioner is already summoned, which would take further time. Thus, detaining the petitioner in custody for long would not be justified.
Final Decision
The bail application is granted.
---
Julia Anna Joseph, an undergraduate student at Christ (Deemed to be University), prepared this case summary during her internship with The Cyber Blog India in January/February 2022.