Abhay Ramchandra Dani v. State of Maharashtra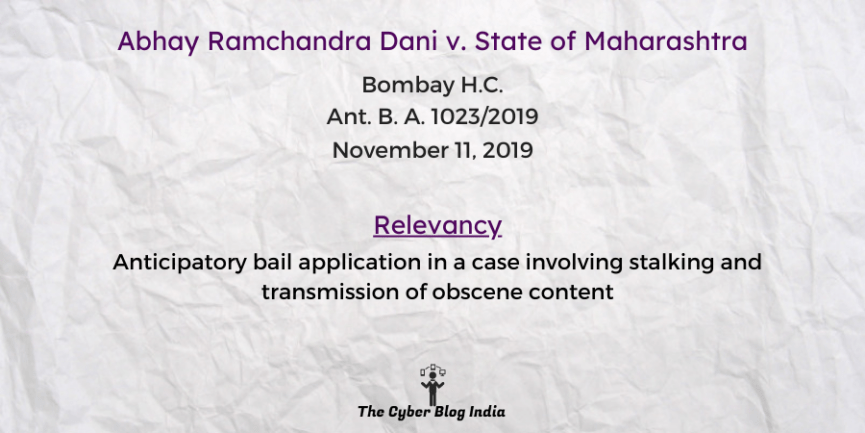 Abhay Ramchandra Dani v. State of Maharashtra
In the High Court of Bombay
Ant. B. A. 1023/2019
Before Justice Sandeep K. Shinde
Decided on November 11, 2019
Relevancy of the case: Anticipatory bail application in a case involving stalking and transmission of obscene content
Statutes and Provisions Involved
The Information Technology Act, 2000 (Section 67, 67A)
The Indian Penal Code, 1860 (Section 354D, 509)
Relevant Facts of the Case
The complainant and the applicant were acquainted with each other through a matrimonial site.
After meeting with the applicant, the complainant decided not to get married to the applicant because she thought that they were not compatible.
The complainant then filed a complaint against the applicant in the police station. The applicant was directed to attend the police station.
Prominent Arguments by the Advocates
The petitioner's counsel submitted that the applicant had attended the police station as directed.
The respondent's counsel stated that as the investigation is over and the charge sheet would almost be completed, the bail could be granted.
Final Decision
Application allowed.
Anticipatory bail granted.